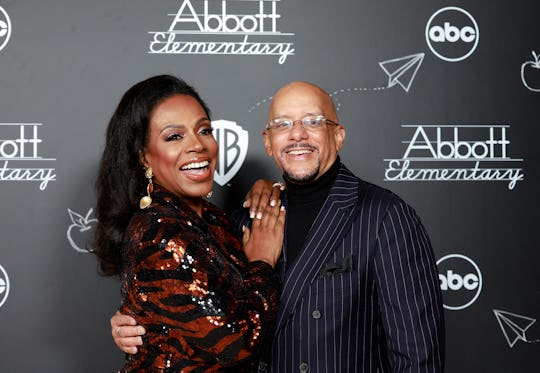 MICHAEL TRAN/AFP/Getty Images
Sheryl Lee Ralph's Husband & Kids Are Her Biggest Cheerleaders
The actress' adult children are following in her entertainment footsteps.
Sheryl Lee Ralph is at a wonderful stage of her career. A stage of firsts, as it were. A well-earned stage, no doubt. After many years of working in movies and on stage and on television, it's as though we've all discovered the true wonder that is the multi-talented Sheryl Lee Ralph. But her loving family? They've known it all along. Here's what else you need to know about Ralph's beautiful family.
Her family will be cheering her on at the Super Bowl.
Ralph can add another first to her impressive roster: performing at the Super Bowl. She'll be joining Kenneth "Baby Face" Edmonds and Chris Stapleton as a pre-game performer singing "Lift Every Voice and Sing," which she sang a cappela during her Emmy acceptance speech that wowed the world. When Ralph first heard that she'd been asked to perform, she told Byrdie she thought it was a prank.
"I'm so happy the NFL called my management and not me. If it had been me, I would have said, 'Don't prank me,' and hung up," she said. "However, their request was simple, 'Please sing during the Super Bowl.' I told my management, 'What in the world? Are you sure they wanted me?' And they said, 'Yes, it's definitely you.' Adam Blackstone, the Super Bowl musical director, said, 'Mrs. Ralph, if they didn't want you, they would not have asked for you. They could have asked anybody, but they wanted you, and the only thing you need to do is come ready to sing.' I am so thankful and happy."
Sheryl Lee Ralph became a mom in 1992.
Ralph married French entrepreneur Eric Maurice in 1990 (the couple divorced in 2001), and two years later the couple welcomed their oldest child, son Etienne Maurice.
Ralph opened up about holding on to her own identity as a mom in an interview with Ebony, telling the outlet, "Very often people talk about mothers, and they think that mother has to lose her sexuality. Mother has to be plain. Mothers cannot be exciting. Mother should not be up on what's going on, she shouldn't know the jargon of the day. And I just find that so old-fashioned!"
Clearly keeping her identity as a mom paid off, because Etienne is all about supporting his mom now that he's an adult.
Her son Etienne loves to hype her up.
When Ralph was finally nominated for an Emmy for her outstanding performance in Abbott Elementary, Maurice was with her to capture her reaction. And honestly, you couldn't even hear Ralph's excitement over his screams of "Yes! Mommy!" it was delightful.
Etienne is a filmmaker in his own right.
Etienne Maurice is the founder of Walk Good Productions in Los Angeles, and his mom also celebrates his big wins in life. Maurice shared a video of Ralph's reaction to a billboard from one of his projects, and she was just as proud of him as he had been of her.
Both Etienne and his sister Ivy-Victoria support and show up for their mom.
In November, Etienne and Ivy-Victoria surprised their mom during an interview on TODAY with Hoda Kotb and Jenna Bush-Hager. Ralph was in the middle of explaining that her children are "everything to me," telling the two hosts that, "I knew that I could not go through life without being somebody's mother," when her children walked on stage to hug her and cheer for her. Carrying flowers for their mom, no less. "She raised us right," Etienne said after everyone had a seat together. "She showed us that she loves us. We've been through a lot as a family, and so to be able to celebrate her in this moment is so beautiful."
Her daughter Ivy-Victoria Maurice joined the family in 1995.
The Moesha actress welcomed her daughter Ivy-Victoria in 1995 with Eric Maurice, before the couple parted ways in 2001. Ralph recently shared a series of throwback photos of mother and daughter together through the years, and they're clearly two peas in a pod.
Ivy-Victoria and Etienne are co-workers and siblings.
Ivy-Victoria is the Vice President of Walk Good Productions, which means that she and brother Etienne get to work together as well as being siblings.
Ralph has been married to Sen. Vincent Hughes for 16 years.
In 2005, Ralph married Sen. Vincent Hughes from Philadelphia. They were both divorced with two kids when a mutual friend introduced them, and they've been together ever since. When asked by Essence in 2020 what she loved most about her husband, Ralph said, "I have a great friend and a great partner; somebody that I absolutely trust. I believe that if something awful was to happen to me, that I could trust my husband to do the best for my family and my kids, and to be all the things I would want him to be. He'd be strong enough to carry on."
That's the thing about Sheryl Lee Ralph's family. They're all in it together. And they're all rooting for her.
This article was originally published on