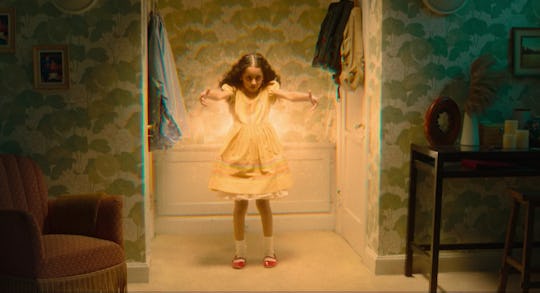 Disney+
What Parents Need To Know About The New Disney+ Short The Ghost
The Ghost is classified as a drama, horror, and coming-of-age film.
October is one of the best months of the year for people who like a scare and presumably one of the worst months of the year for people who don't. Yes, it is also the month of pumpkin spice lattes and scarves and coziness, but mostly it is the month of Halloween and all things frightening. Especially on streaming services. Fortunately, there are some shows that fall in the realm of a bit of a jump scare but not too far for kids who want a thrill without feeling like they won't be able to sleep at night. And Disney+ has a new short called The Ghost that ticks that box.
In The Ghost on Disney+, a young girl learns to appreciate her family after losing them.
The Ghost, a 20-minute short directed by Erica Eng for Launchpad, sees 12-year-old Clarice Cheung struggling to connect with her family. The rest of the family communicates in Korean, including her older sister Naomi, but Clarice does not understand them. Leaving her feeling invisible and resentful. So when the ghost of a lonely young girl named Elena suddenly appears, embracing the members of her family and dragging them into an alternate universe where she replaces her as the youngest child, it is up to Clarice to save them. And learn to embrace the family she has rather than wishing for a family that doesn't exist.
Is The Ghost short on Disney+ too scary for kids?
There's plenty to recommend about The Ghost for families. The theme of the short is all about finding your place in your family, appreciating each other, and learning to compromise to make other people feel loved and included. But it has some surprisingly scary moments peppered in when you might not expect them. Whenever the ghost appears, she opens her arms to hug the adults in the household and drags them to another world where she can be their family. There is also the fact that Elena died after yelling at her own parents, which will be upsetting for kids to see (although it is implied rather than shown).
Kids over the age of 10 should be fine with The Ghost, especially since it is only 20 minutes long and everyone is safe and happy by the end.
What is The Ghost rated?
The Ghost is rated PG and classified as drama/horror/coming of age.
How can you watch The Ghost?
You can stream The Ghost on Disney+ with a subscription.