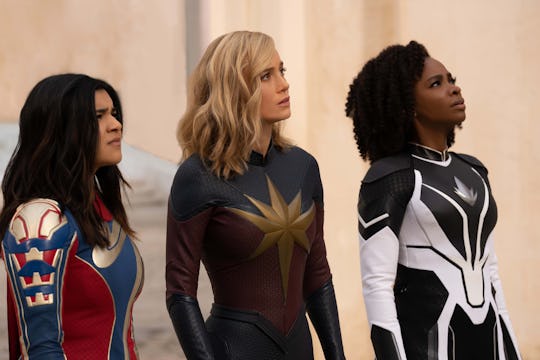 Marvel Studios
What Parents Need To Know Before Taking Your Kids To See The Marvels This Weekend
Three strong female leads? Yes please.
Carol Danvers, aka Captain Marvel, is coming back to save the universe in the MCU sequel The Marvels. But this time around, Carol (Brie Larson) is not alone. In The Marvels, she'll be joined by Monica Rambeau (Teyonah Parris), Kamala Khan (Iman Vellani) and Nick Fury (Samuel L. Jackson), who will be hopping into her universe from their respective roles in WandaVision, Ms. Marvel, and Secret Invasion. As with every MCU movie, kids will be excited to see the action on the big screen. Also with every MCU movie, parents are going to have questions about the age appropriateness of The Marvels because it's always a bit of a delicate dance. Here's what parents need to know.
What is the The Marvels about?
In The Marvels, "Carol Danvers aka Captain Marvel has reclaimed her identity from the tyrannical Kree and taken revenge on the Supreme Intelligence. But unintended consequences see Carol shouldering the burden of a destabilized universe," the official synopsis reads. But it looks like she won't have to shoulder that burden alone. "When her duties send her to an anomalous wormhole linked to a Kree revolutionary, her powers become entangled with that of Jersey City super-fan, Kamala Khan aka Ms. Marvel, and Carol's estranged niece, now S.A.B.E.R. astronaut Captain Monica Rambeau. Together, this unlikely trio must team-up and learn to work in concert to save the universe as The Marvels."
In other words, these incredible women have to find a way to work together. And super-fan Ms. Marvel could not be happier about it in the trailer for The Marvels.
In the trailer for The Marvels, a trio of female superheroes join forces.
The trailer for The Marvels sees Captain Marvel going up against Dar-Benn (Ziwe Ashton), who accuses her of taking everything she had from her. "And now I'm going to return the favor," she says, and she means Captain Marvel's superpowers. While she had planned to fight off the evil Kree alone, Carol Danvers learns that she will have to accept the help of Ms. Marvel, her niece Monica, and Nick Fury if she has any hope of saving the universe.
What age is The Marvels appropriate for?
The Marvels has a rating of PG-13 for action/violence and brief language, much like Captain Marvel. Yes, there are going to be the requisite CGI fight scenes and violence, and I think we can all guarantee there will be plenty of corny one-liners, but that is somewhat outweighed by the positive effects of kids seeing strong female leads on screen. Strong female superheros working together, no less. Parents will of course know their own children and what they can handle, but kids 10 and over who are familiar with the MCU should be comfortable with The Marvels.
When does The Marvels premiere?
The Marvels will premiere in theaters across the country on Nov. 10, 2023.