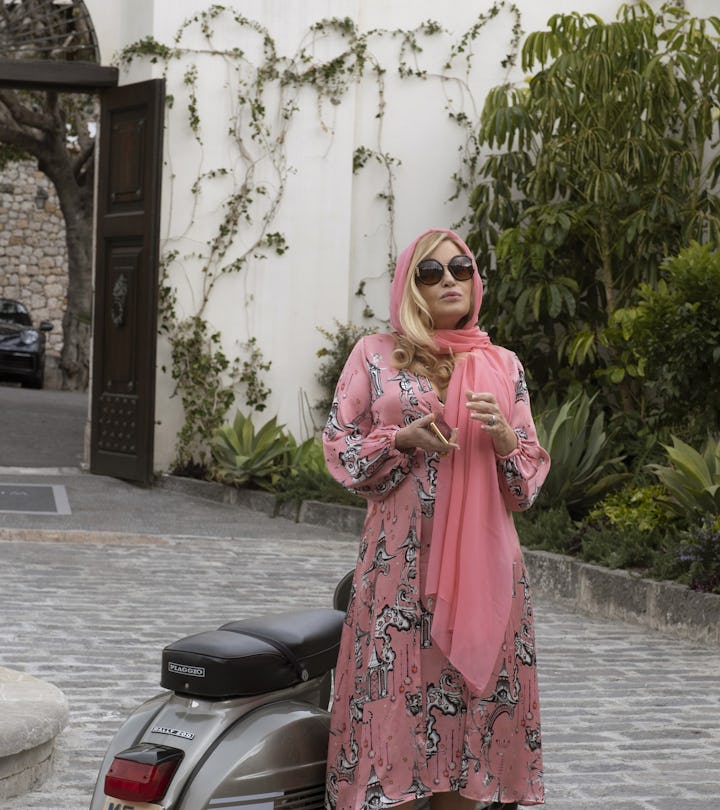 Warner Media
The White Lotus Is The Perfect Treat For After The Kids Go To Bed
Sometimes we can have our own nice things.
HBO Max is giving us a second season of The White Lotus, and it's coming soon. Like, before Halloween, that kind of soon. If you don't know if it's worth your time to watch, you need to go back and revisit the first season. Because it's great, just ask the Emmy voters because they loved it. As exciting as it is to see glimpses of the second season of one of the best shows to come from HBO Max, what will that look like for parents? Is the new season of The White Lotus going to be one you can watch with your kids, or are you better off waiting until they go to bed?
The White Lotus moves to Sicily in Season 2.
Season 2 of The White Lotus sees a whole new crop of guests arriving, as well as a different hotel manager, apparently. In a clip from the second season, Sabrina Impacciatore greets guests to "The White Lotus in Sicily," much as Murray Bartlett welcomed guests in the first season (and anyone who watched the first season remembers what happened to that hotel manager the first time around).
The new cast includes Aubrey Plaza (Parks & Recreation), Michael Imperioli (The Sopranos), Theo James (The Time Traveler's Wife), Meghann Fahy (The Bold Type), F. Murray Abraham (Moon Knight), Adam DiMarco (The Magicians), Tom Hollander (Pride and Prejudice), Haley Lu Richardson (The Edge of Seventeen), as well as Will Sharpe, Leo Woodall, Beatrice Grannó, and Simona Tabasco, all of whom will either be guests of the resort or staff members.
Jennifer Coolidge is back advertising for the "Blossom Circle."
Returning White Lotus guest Jennifer Coolidge is more than just a customer this time around. She's also appearing in a commercial for the White Lotus resorts to promote their exclusive Blossom Circle membership. Apparently the events of the first season weren't enough to dissuade her from giving The White Lotus another go.
The new trailer for Season 2 of The White Lotus sees more trouble for hotel guests.
The first full-length trailer for the second season of The White Lotus dropped on Oct. 6, and here's what we know so far. Coolidge's Tanya is married to Greg, the only two characters from the first season to return, and she suspects he is having an affair. Although he might just be annoyed that she brought her personal assistant along. Another woman, played by Aubrey Plaza, is dealing with the irritating friends of her newly-wealthy husband, while a family of three men are hitting Sicily to rediscover their Italian roots for a boys' trip because "all the women in our family hate" one of the men. The trailer shows some drug use, some sex, and possibly another dead body. Just as an FYI to parents who might have been thinking to watch with kids.
When will The White Lotus Season 2 premiere?
The second season of The White Lotus will premiere on Oct. 30 on HBO Max, leaving fans less than a month to rewatch the first season if they want to stay immersed in that decadent, dark world.
So, can you watch The White Lotus with your kids?
Speaking of the events of the first season of The White Lotus, I think most of us can agree that season was definitely not for kids. Common Sense Media gave it a 17+ rating because of sex, nudity, and drug use. And let's face it; there was a lot of sex and drug use, not just little snippets. There was also a lot of swearing and of course, the season ended with a murder.
What is The White Lotus rated?
The first season of The White Lotus on HBO Max was rated TV-MA for sex and nudity, violence and gore, profanity, alcohol and drug use. In other words, it had everything.
TV-MA but also all the Emmys wins.
Sure, the first season of The White Lotus was rated TV-MA, but that rating didn't stop it from receiving a whopping 20 Emmy nominations and took home 10 awards including Outstanding Director and Writer for Mike White, Outstanding Supporting Actor for Murray Bartlett (who played Armond in Season One), and of course, Outstanding Supporting Actress for Jennifer Coolidge, who delivered an iconic speech that was perfectly on brand for her.
Season 2 of The White Lotus should see more of the same.
The second season of The White Lotus is definitely going to deliver more solid performances, gorgeous scenery, and intrigue, just like the first season. And most importantly, Coolidge's Tanya making her triumphant return. Put the kids to bed and watch.
This article was originally published on