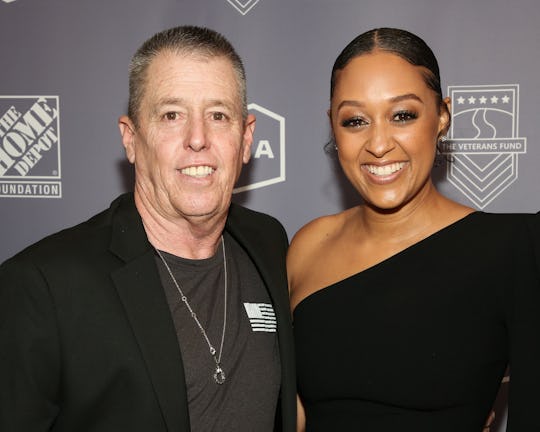 Paul Archuleta/Getty Images Entertainment/Getty Images
Tia Mowry's Dad Had The Sweetest Reaction To A Prank She Played On Him
If Tia Mowry ever wondered whether or not her father Timothy was protective of her, she got her answer. An answer she provoked with a hilarious little prank, if we're being honest here. The Real host got her dad real good with a prank that seems to be circulating a bit these days. And even he couldn't help admitting that she really pulled it off.
Mowry, who is mom to 11-year-old son Cree and 5-year-old daughter Cairo with ex-husband Cory Hardrict, took to Instagram on Wednesday to share a prank she had played on her dad, ex-military man Timothy Mowry.
"Dad come here! I totally forgot to tell you something and I don't want to tell the whole world," Mowry calls out to her father from her backdoor, gesturing for him to come over quickly. "Dad, I totally forgot to tell you this and I'm actually really nervous to tell you," she tells him as he hurries over, looking worried.
She goes on to explain that a man approached her at her door over the weekend. Timothy's glasses come off so he can really get down to business as he listens. "He walks up to me and he goes 'I want to kiss you,'" she explains, and now Timothy's arms are crossed. He's not happy.
Mowry goes on to explain that this stranger offered her a bottle of wine if he could kiss her at the door, and now Timothy is pulling out his phone to check the ring camera from the door for this hooligan. She continues to tell him that he might live in the neighborhood and proceeds to point out that "he went that way," holding a bottle of wine in her hand. Earned, I guess, by kissing the non-existant stranger.
"So you kissed him?" Timothy says as his daughter laughs uncontrollably. "You got me good."
No hard feelings at the end of the prank, clearly, because Timothy Mowry high-fived his daughter, who wrote in the comment section of the video, "I'm still laughing!!! God I love my dad!"
Mowry has always been very close to her whole family, which includes twin sister Tamera Mowry, parents Darlene and Timothy, and younger brothers Tahj and Tavior. She has opened up in the past about her close relationship with dad Timothy, with whom she bonded over their shared love of cooking. "My dad would always barbecue in the backyard," she told People in 2019. "I would love to see him do what he loved and that was cook. This is one of the reasons why I love to cook myself. I would just watch him prepare and we would have the best father and daughter conversations. So with that said, I love to cook with my children creating awesome memories."
Now they have new memories to make in the backyard. Prank memories. Let the games begin.