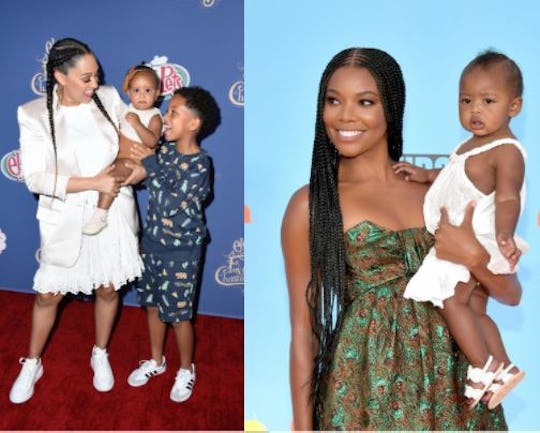 (left) Vivien Killilea/Getty Images Entertainment/Getty Images; (right) Neilson Barnard/Getty Images Entertainment/Getty Images
Tia Mowry & Gabrielle Union's Daughters Have The Cutest Little Friendship
It's official, a new best friendship has blossomed. Within the last month and a half, Tia Mowry and Gabrielle Union's daughters have met up for two playdates, and by the looks of it, they've had an "epic" time.
In their most recent date, the girls met up at Mowry-Hardict's house, which she shared on Instagram. During their visit together, Kaavia and Cairo, showed off their artistic and writing skills on a chalkboard in the backyard. The Family Reunion actress posted a video on her Instagram, highlighting the toddlers' day together.
In the beginning of a video Mowry-Hadrict shared, Kaavia comes in and her pink backpack is unzipped. Cairo tries to zip it up for her, or peek inside, and Kaavia was hilariously not having it. "The way Kaavia turned around when Cairo was tryna look in her bag. They are too cute," one viewer commented.
"Another #playdate in the books!" Mowry-Hardict captioned the video. "These two @kaaviajames and #cairo have the best time together. #girls really do have #fun Thanks @dwyanewade and @gabunion."
Kaavia and Cairo first met up last month. During their first playdate, the girls giggled, hugged, even drove around in a mini Mercedes-Benz... this dynamic duo obviously had a blast together and thankfully their moms shared some snippets of it on Instagram.
Both moms scooped their daughters' similar personalities and a meet-up was bound to happen. Back in January, Mowry-Hardict posted a photo of herself and Cairo showing the Anser co-founder smiling from ear to ear while Cairo looked at the camera with a straight face. Union saw the photo and commented, "Cairo and Kaavia, one day that playdate will be epic!!"
Fast-forward eight weeks later and the two finally met. And then they met again! Seems like it's safe to say that this is the start of an epic bestie relationship between the two tots!
This article was originally published on