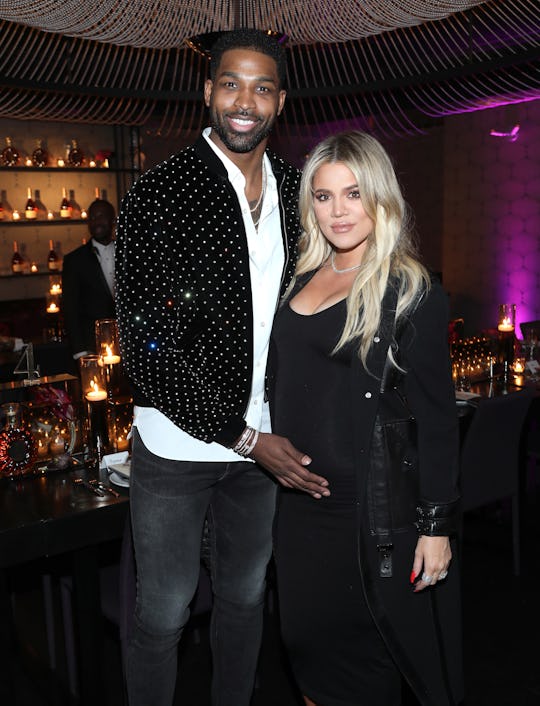 Jerritt Clark/Getty Images Entertainment/Getty Images
Tristan Thompson Worries About His Kids Being "Embarrassed" By Scandals
"The last thing I ever want them to do is feel embarrassed that I'm their father."
Tristan Thompson is starting to worry about his four kids being "embarrassed" to call him dad. The NBA player sat down on the latest episode of The Kardashians on Hulu with ex-partner and mother of two of his children, Khloé Kardashian, to talk about their complicated relationship and his concerns about his children for the future.
Thompson rather famously cheated on Kardashian in the past. First when she was pregnant with their 5-year-old daughter True, again when True was an infant, and yet again when the couple were expecting their 1-year-old son Tatum via surrogate in 2022. At that point, it was revealed that Thompson was expecting another baby with Maralee Nicholls, 1-year-old son Theo, which came as a complete surprise to Kardashian at the time.
Despite their difficult background, the Good American designer has invited her ex to stay in her home while his own house is being worked on, along with his 16-year-old brother Amari. Thompson lost his mother, Andrea Thompson, very suddenly in January of a heart attack at her home in Toronto. It seems that losing a parent has shifted his perspective on his own past actions. During a conversation on The Kardashians, Thompson was reflective about his recent years and the hurt he has caused.
"I think going down this journey that I've been on right now, especially what happened to my mom, I always ask myself, 'Why do certain things to hurt certain people?'" he admitted. "I think the thing that always sticks to my mind, it's like, I know how much I care about you, I know how much I love you. You're my best friend. I meet my person—how come I've done so much wrong things to them? Why put you through that?"
He went on to talk about how his past infidelities might affect his children, specifically daughter True and his 6-year-old son Prince, who he shares with ex-girlfriend Jordan Craig. "True is understanding stuff and Prince understands things where they go to school and they have classmates," the concerned dad told Kardashian, alluding to the social media attention he received after his multiple infidelities. "The last thing I ever want them to do is feel embarrassed that I'm their father."
For her part, Kardashian says she is simply trying her best to be a good person and move on from a traumatic experience. "I'm so proud that I'm able to be kind and mature and show my children that mommy and daddy can coexist and be co-parents," she said in a confessional. "I'm able to be here for him when he's in his time of need."
Whether or not his kids will understand what has happened as they get older, of course, remains to be seen.