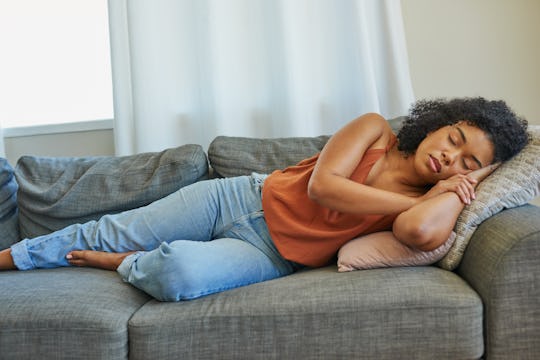 LaylaBird/E+/Getty Images
You Might Be Pregnant If You're Having One Of These Weird Dreams
Who knew that eating apples in your dreams could mean you're expecting?
For some people, the first sign of a pregnancy could come to them in a dream. There are some types of dreams that people believe predict pregnancy — or at least, if anything, they're an indication that you're thinking about it. But are your dreams really an indicator you have (or want to have) a bun in the oven? It all depends on how you interpret these nightly visions.
Dream interpretation can be approached in different ways. First, some dream interpreters see symbols in dreams as a very personal and individualized experience. "I look at dreams from a psychological perspective," Layne Dalfen, Dream Analyst and author of Have A Great Dream, tells Romper via phone. "It's what your associations are that counts."
For example, say a person dreams about fish. A person who keeps an aquarium and has pleasant associations with fish would interpret the symbol very differently than someone who is extremely allergic to eating seafood. When you approach dream interpretation this way, it's all about your own experiences with various symbols and what they mean to you personally.
It's generally important to keep an open mind and think symbolically when interpreting dreams, especially when it comes to pregnancy. "Your dreams are a reflection of your day. In fact, they can be brutally honest commentary! Except they speak to us in metaphors rather than in literal language," Lauri Quinn Loewenberg, Professional Dream Analyst, tells Romper via email.
Whatever you believe about dreams and their interpretations, here are some ways an early pregnancy may just make itself known in your subconscious overnight. (Or, you know, during a mid-day nap. Thanks, hormones.)
Experts:
Layne Dalfen, Dream Analyst and author of Have A Great Dream
Lauri Quinn Loewenberg, Professional Dream Analyst
This article was originally published on