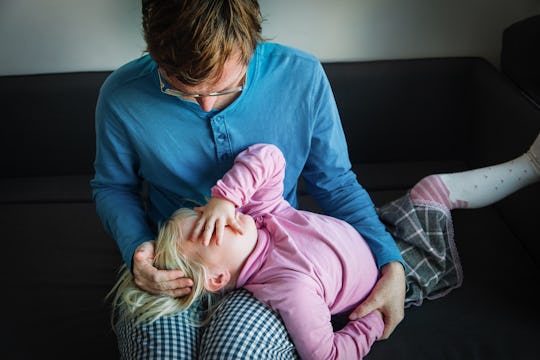 Shutterstock
If You Have A Toxic Dad, You'll Recognize These 11 Signs Right Away
By the time you reach adulthood, you probably have some serious thoughts about your upbringing. Most parents legitimately try their best, but there are unfortunately some exceptions to this rule. Knowing the signs you have a toxic father can help you heal from past trauma, as well as refrain from repeating these mistakes with your own kids.
First, though, it's important to understand what makes a relationship toxic in the first place. "In the context of parenting, the word toxic means they are hindering their child's development and causing harm," Dr. Kelly Campbell, Professor of Psychology at California State University, San Bernardino, tells Romper. Often these parents experienced neglect or dysfunction while growing up, then go on to replicate these maladaptive behaviors when raising their own children, as Dr. Campbell further explains. "Toxic relationships are marked by disrespect and devaluation," Elizabeth Dorrance Hall, Ph.D., Assistant Professor of Communication at Michigan State University and Director of the Family Communication and Relationships Lab, tells Romper. It's hard to feel good about yourself when around this person.
Fortunately, you aren't doomed to repeat your father's behaviors. Simply knowing the signs of toxic behavior, and being aware of your own actions, can go a long way. Plus, you don't have to give the toxic person a place in your current life. "Establishing and maintaining distance may be the healthiest choice in a toxic relationship that is not likely to change. Distance can be physical (you do not see them) or mental (certain topics are off limits or mental boundaries are drawn to protect oneself)," says Dr. Hall. You can also explore the option of counseling to address these pain points and find a healthier way to parent your own children. Growing up with a toxic parent is rough on any child, but you can identify the signs and move on to a happier future.