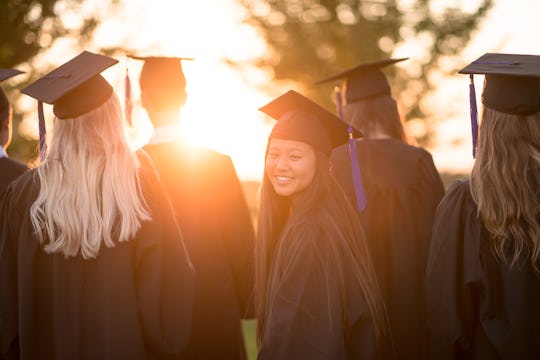 FatCamera/E+/Getty Images
20 2021 High School Graduation Quotes Perfect For Writing In Cards
It's hard to believe that a year of Zoom school and masked classrooms is coming to a close. While this year has been anything other than ordinary, high school graduates are still facing many of the same emotions as years before: excitement, uncertainty, a sense of accomplishment mixed with a bit of anxiety. If you're not sure what to say to the grad in your life, these motivational quotes for high school seniors will do the talking for you.
Some of these inspirational quotes were pulled directly from commencement speeches, and some are just inspiring things that have been said. You'll find quotes from actors, authors, historical figures, and of course, the Obamas. These quotes embrace failure, remind grads to stay curious and kind, and speak to the uncertainty inherent in both the graduate's personal lives and the world at large.
Whether you write one of these in a card or have your grad read them on their own, these inspirational quotes for high school seniors will leave your grad feeling hopeful and motivated. And while high school kids are the ones who are somehow motivated to get up every morning and go to school on their laptops, it couldn't hurt to add these quotes to their motivation toolbox as they head out to college or work or whatever comes next.