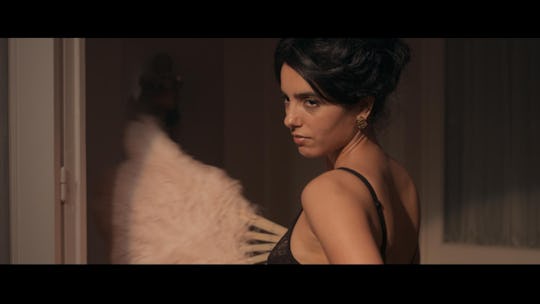 Netflix
24 Sexy Netflix Movies To Watch With Your SO That Are Better Than Foreplay
Date night just got a little spicier.
These days, when it's time to settle down to movie night with your significant other, turning on Netflix is pretty standard protocol. It's an easy, go-to move after a long day, but let's be honest — most people get caught up watching the same old shows they watch during normal weeknights. If you're trying to create a date night atmosphere, perhaps it's time to take things up a notch and start watching something from Netflix's "Steamy Romance" subgenre. When it comes to sexy movies for couples on Netflix, there are plenty of good options to choose from.
Porn is also an option, but it's not necessarily for everyone, and you might want to leave that genre for another night. If all you want is a movie that will start a sensual conversation and make you feel a little hot, then it's best to start with movies that are sexy without being overtly explicit.
There are plenty of reasons to feel excited about this (besides the obvious appeal of a hot night in with your SO). Maybe you and your partner have experimented with watching feminist porn, but you've been interested in watching more sensual films about love and sex — the kind of movies that will introduce you to new topics to explore and allow you to better communicate about your wants and needs in bed. You never know what this viewing party might inspire in your sex life moving forward. To give your relationship a little extra spark, settle in for one of these sexy Netflix movies with your partner.
While it's tempting to pull up Schitt's Creek or The Office and get cozy with your partner, your favorite comfort shows aren't going anywhere. So, if you're looking for a new way to spice up your average movie night, these sexy movies for couples are a surefire way to initiate anything from sexy time to a conversation about what you want to try together. It's time to heat up "Netflix and chill," and these flicks are the perfect place to start.
This article was originally published on