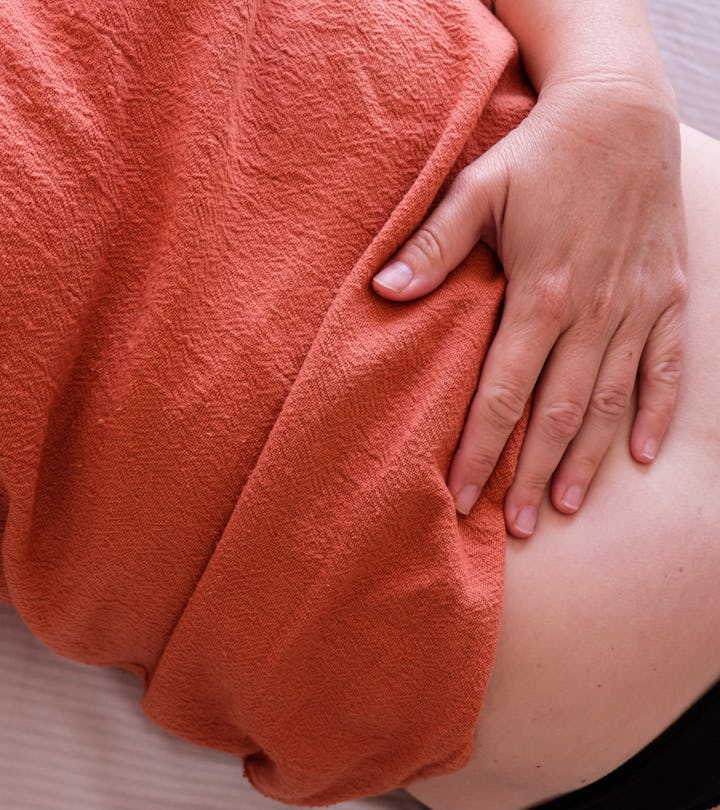 Shutterstock
6 Ways To Relieve Gas Pain After A C-Section
Although it's not often talked about, gas pain is one of the most common side effects of a C-section. It makes sense — after an invasive procedure like that, excess air and gas can get trapped in your stomach, making it difficult to deal with in the days following your procedure. Luckily, there are a few ways to relieve gas pain after a C-section that will get things moving along and lessen your discomfort.
You may experience gas pain in the form of bloating, sharp pains in your abdomen, or even pain in your upper body or shoulder. According to some moms, gas pain can last for a lot longer than they expected. "After a C-section, there are typically a few days when the gastrointestinal tract does not function optimally," Dr. Felice Gersh, OB-GYN and director of the Integrative Medical Group of Irvine, tells Romper. "The shock of being exposed to air, being touched or moved around during the surgery, receiving antibiotics, and of the enormous shifting hormonal levels all come together to impact bowel motility."
You're probably expecting incision site pain, difficulty walking or lifting your baby, and are familiar with the common rules like no driving, limited stair climbing, and taking it easy overall. If you're not prepared for the gas pain, however, it can make it even harder to deal with. What you eat before the procedure might have an impact on gas and bloating post-surgery.
If you've already had your baby and are struggling with the pain, it's not too late to find ways to lessen your discomfort. Trying these remedies along with taking any medications your OB-GYN may have prescribed for gas pain should get things moving along in no time.
The discomfort will pass as your body heals, but in the meantime hopefully these tricks will help relieve some of your gas pain.
Experts:
Felice Gersh, M.D., OB-GYN and director of the Integrative Medical Group of Irvine, author of PCOS SOS Fertility Fast Track
Kecia Gaither, M.D., OB-GYN and director of Perinatal Services at NYC Health + Hospitals/Lincoln
This article was originally published on