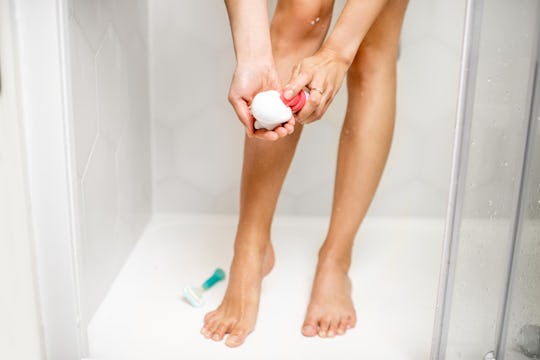 Shutterstock
7 Surprising Benefits Of Not Shaving Down There That'll Make You Rethink Your Razor
Listen, razors are expensive.
Maybe you keep a standing monthly appointment at your waxing place. Maybe you never remove a single pubic hair and you like it that way. Many people fall somewhere in the middle, and a lot of us keep up with new growth by shaving at home. Whatever your stance on pubic hair is right now, you should know there are some surprising benefits of not shaving your pubic hair that might make you rethink your razor habits.
Shaving as we know it began in the early 1900s when it became common for women to shave their armpits, though women have been removing hair from their bodies since the time of cavemen according to Mic. Shaving has only become more prevalent with time, and removing pubic hair specifically became a widespread practice in the last forty years or so. But it's become mega popular since then, with a study published in JAMA Dermatology from 2016 finding that almost 84% of women groom their pubic hair to some degree.
But despite the high number of people who shave, there are actually a lot of benefits to not shaving down there, which makes sense. Your body grows that hair for a reason, so naturally there are reasons it would be good for you to have it. Of course, shaving or waxing isn't dangerous to your health, and it's up to you and you alone on what you want to do with your pubic hair. But finding out the benefits of keeping it might just make you rethink your weekly shave.
At the end of the day, removing your pubic hair is a personal decision, and there are lots of ways to do it safely if it's what you want. But if you only remove it because of societal pressures, knowing the benefits of keeping the bush might make you feel more comfortable giving up shaving. Bottom line: do you.
Studies referenced:
Rowen, T. S., Gaither, T. W., Awad, M. A., Osterberg, E. C., Shindel, A. W., & Breyer, B. N. (2016). Pubic hair grooming prevalence and motivation among women in the United States. JAMA Dermatology, 152(10), 1106. https://doi.org/10.1001/jamadermatol.2016.2154
Osterberg, E. C., Gaither, T. W., Awad, M. A., Truesdale, M. D., Allen, I., Sutcliffe, S., & Breyer, B. N. (2016). Correlation between pubic hair grooming and stis: Results from a nationally representative probability sample. Sexually Transmitted Infections, 93(3), 162–166. https://doi.org/10.1136/sextrans-2016-052687
Experts:
Dr. Alyssa Dweck M.D., FACOG, an OB-GYN based in New York
Alicia Johnson, certified nurse midwife at Lone Tree OBGYN and Midwives
Dr. Felice Gersh, M.D., an OB-GYN and the founder and director of the Integrative Medical Practice of Irvine
This article was originally published on