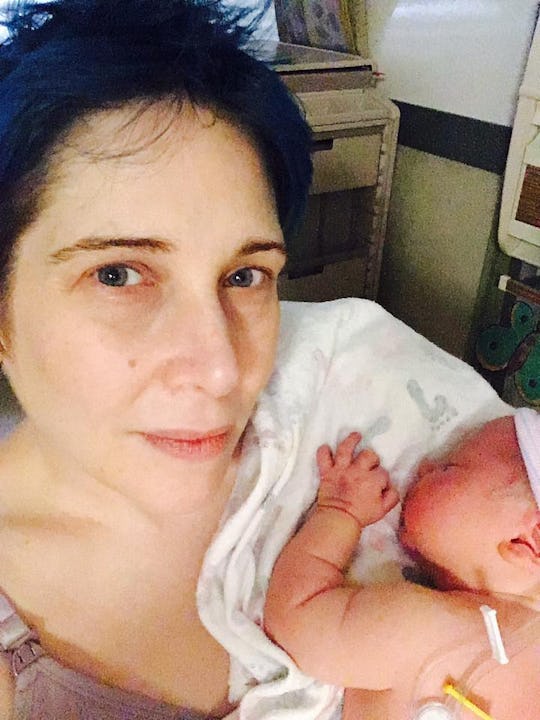 Courtesy of Steph Montgomery
The Post-Baby Products That Helped Me Survive My Baby's 2nd Night
When I had my first baby, no one told me about "second night syndrome." I brought home a sleepy, peaceful angel from the hospital and then, as the sun went down, all hell broke loose. She literally cried and nursed all damn night long. I didn't sleep and started to seriously doubt my ability as a mother. I'm not sure how we survived, because that night almost broke me. The next time around I knew what to expect, and while it was still hard, there were a few things that helped me survive second night syndrome.
In the past eight years, I've learned that some of your best "new parent" purchases are the things you least expect to want or need. When our daughter was born, I was certain I'd never co-sleep, formula-feed, or use pacifiers. Then, you know, life happened. My milk didn't come in right away, and I didn't make enough when it eventually did. My daughter cried all night long during her second night of life and, as a result, no one got any sleep. The next day my mom went out and bought my partner and I a co-sleeper that attached to the bed. Best gift ever.
Over the next week I learned that it's OK, and sometimes necessary, to supplement with formula. Not only would it not hurt breastfeeding, it would make my life a whole lot easier in the long run. I also learned that nipple confusion is a myth and pacifiers, well, can really help pacify your baby. So, what helped me survive the second night? Read on for some ideas so you don't have to learn the hard way, like I did.