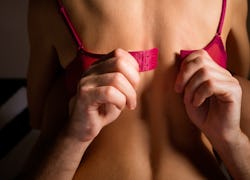 Have Your Partner Try These 14 Things With Your Breasts During Sex
Shutterstock
Prepare to have your mind blown.
From the nape of your neck to the tips of your fingers, every part of your body offers an opportunity for eroticism. The same holds true for your breasts, too, which can definitely enhance your sexual experience. That's why your partner shouldn't brush over your boobs to get straight to your nether regions. As it turns out, your breasts can offer up a whole different erogenous zone for enjoyment. And there are plenty of things your partner can do to your breasts during sex to make it even better — for both of you.
If you thought all the action had to be below the waist, well, your boobs beg to differ. Even the science shows that breasts and nipples are an integral part to arousal. In the study, "Nipple/Breast stimulation and sexual arousal in young men and women," researchers validated what we've known all along — it's a total turn on when your boobs are touched. So much so that 81.5% of women said that breast stimulation made them more turned on, and 59.1% wanted their nipples manipulated during lovemaking.
But why are breasts so tender (and tantalizing) to the touch? Dianis Graveris, a certified sex educator and relationship expert, explains: "Breasts are composed of an entire nerve network," she says. "You can find hundreds of nerve endings in your areola and nipples; that's why they get sensitive when stimulated the right way." And that might explain why breast stimulation makes you a whole lot hornier. "Using functional magnetic resonance imaging (fMRI) researchers found that nipple stimulation lit up the same areas of the brain that are activated with clitoral, vaginal, and cervical stimulation," Susan Wysocki, WHNP, FAANP, President of iWomansHealth and advisor to the American Sexual Health Association, tells Romper via email.
So if you're looking for ways to increase the fun and passion in the bedroom, these are some ways in which you can celebrate your breasts sexually.