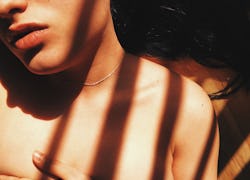 Here's Why Your Breasts May Leak During Sex
Laura Cortés / EyeEm/EyeEm/Getty Images
You can just blame those pesky hormones.
Anyone who has spent some physical time between the sheets knows sex isn't the cleanest activity. Between the saliva, arousal sweat, and cum, a post-coitous towel down is almost required. But as messy as it may be, people rarely complain about the fluid that accompanies a quality shag. That is, until it's leaking from your breast. Sorry to be the bearer of bad news, but if you've had a baby, are expecting, or simply have boobs, there is a chance your breasts will leak during sex.
Dr. Idries Abdur-Rahman, OB-GYN, tells Romper that he mentions to his patients that "breasts are machines and serve one primary purpose — to produce milk." And oxytocin is to blame for them leaking, because it's responsible for a lot of things that happen in the human body — especially during pregnancy. So if you find your breasts are a bit leaky while you're romping around with your partner, don't panic. There's nothing to worry about — it's just what happens when the oxytocin hormone gets involved. And don't get embarrassed either. It's a totally normal thing that happens with the human body, and shouldn't be treated as anything else.
(Also, don't panic about what this means for breastfeeding or your baby or anything else. It's literally all to blame from a hormone.) Here's what to know about your leaky breasts during sex, and what it all means.
Expert:
Dr. Idries Abdur-Rahman, OB-GYN, author of Everything You Ever Wanted to Know About Pregnancy (But Were Too Afraid or Embarrassed to Ask) and one half of the Twin Doctors for TwinDoctorsTV.
This article was originally published on