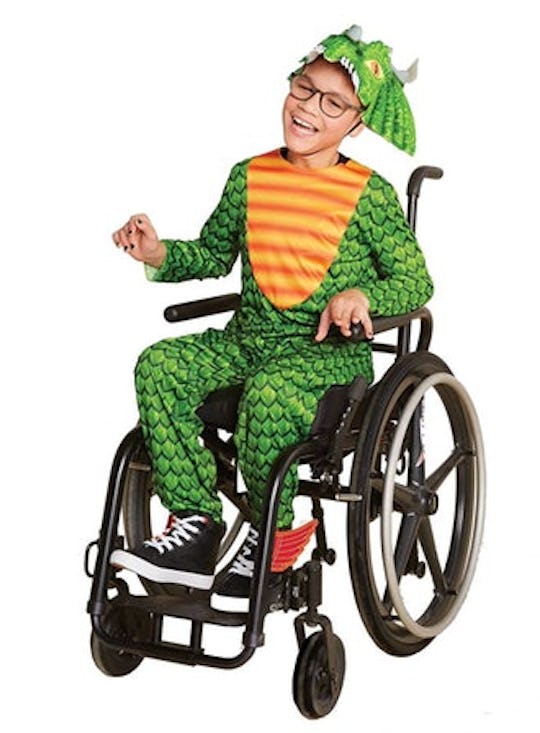 Walmart
These Adaptive Halloween Costumes Are Amazing
Inclusive costumes so every kid can have frighteningly good fun.
It seems like as soon as kids go to school time suddenly sprints forward and before you know it, it's already October. And that means one thing: Halloween is but a few short (and scary) weeks away. Of course, you can always cruise the aisles and grab a costume, but if you're a parent of a child with a physical or mental disability, picking up a costume isn't as easy. After all, a lot more thought has to go into ensuring that your child's costume is comfortable, safe, and most of all, cool. These adaptive Halloween costumes will make trick or treating a lot more fun, and you won't have to use your shaky DIY skills to create a cool costume for your kid.
Because as fun or festive as they might be, Halloween costumes are not known for being the comfiest clothing on the planet. They're often stiff, smelly, and overall uncomfortable. Now, imagine trying to make that work with a child who has sensory sensitivities and struggles with clothing that doesn't cater to their needs, and it can make Halloween a nightmare — and not the good kind.
But what exactly is an adaptive Halloween costume? Thankfully, retailers have started to come around and include costumes in their collections that cater to children who have mental or physical disabilities. That means front openings that allow for feeding tubes, or ones that open in the back to make getting into (and out of) the costume so much easier.
So if you're ready to give up the glue gun (for this October 31, anyway), these adaptive Halloween costumes will let your child look (and feel) like they're ready to boo their 'hood.
We only include products that have been independently selected by Romper's editorial team. However, we may receive a portion of sales if you purchase a product through a link in this article.
Adaptive Halloween costumes have come a long way from the DIY ones you had to make in years past. Now, your child can be anything they want to be on Halloween, and feel happy and comfortable all through the night.