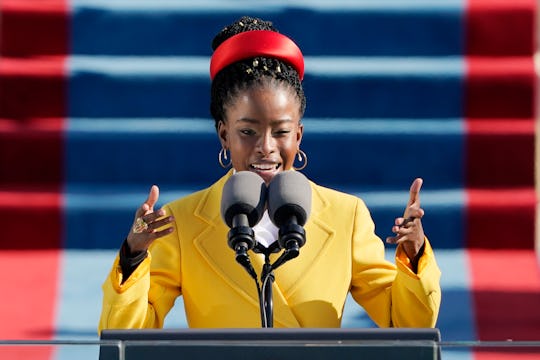 PATRICK SEMANSKY/AFP/Getty Images
Amanda Gorman Wants To Run For President In 2036
"I realized I don't have to change who I am to be a leader."
National Youth Poet Laureate Amanda Gorman has presidential aspirations. That's right, the 23-year-old activist has plans to run for president in 2036 when she's eligible.
Gorman, who wrote and read the poem "The Hill We Climb" at President Joe Biden's inauguration earlier this year, opened up in a recent interview with WSJ Magazine about doing the "poetry thing for a little bit" and then eventually switching over to politics.
"I think to make the impossible more proximate, you have to treat it as if it's in reaching distance," Gorman told the publication for its fall issue. "I've always understood the potential of the presidency or political office to both be terrific and also toxic and terrible."
She added, "Being able to talk to people like Hillary Clinton and Nancy Pelosi, I realized I don't have to change who I am to be a leader. If anything, those qualities will be what become my strength when I bring them into my field."
This is not the first time the Harvard University graduate and youngest poet laureate expressed her presidential plans. In fact, Gorman has talked about running for president both with The New York Times and her college paper. "Gorman described her background as a 'skinny Black girl, descended from slaves and raised by a single mother,' who can dream of being president one day, 'only to find herself reciting for one," New York Times reporter, Alexandra Alter, wrote about Gorman.
The 2018 Harvard Crimson described her as a "self-described future candidate for the U.S. presidency."
If Gorman, whose poetry books sold out before their release date, decides to make a run for the White House, she will already have the first Black First Lady in her corner. After all, former First Lady Michelle Obama is one of Gorman's biggest fans.
"Looking at her, I see someone who can help us draw even closer to a better, more inclusive America," Michelle spoke about Gorman's achievements to WSJ. "Someone who will use her identity as a Black woman and her ability to connect with others to help reshape and repair the world around us."
Hillary Clinton also chimed in her support. On Inauguration Day, she tweeted a selfie with Gorman and former President Bill Clinton with the caption, "Wasn't @TheAmandaGorman's poem just stunning? She's promised to run for president in 2036 and I for one just can't wait."
If Gorman takes that leap, she will become the second Black woman to run for president behind Rep. Shirley Chisolm.