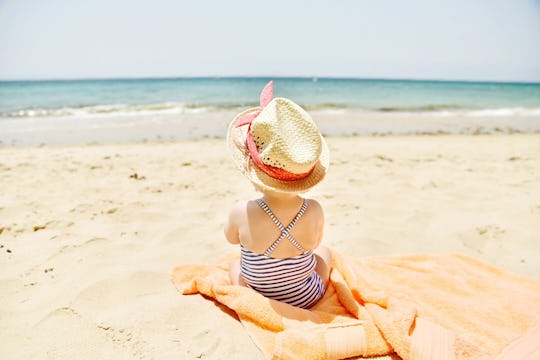 Pablo Martn Rodrguez / EyeEm/EyeEm/Getty Images
9 Best UPF Swimsuits For Babies So They'll Be Safe In The Sun
Sometimes sunscreen just doesn't cut it.
Summer is just around the corner which means long days, popsicles outside after dinner, fireflies, and fireworks, but it also means thinking of creative ways to keep your baby's delicate skin protected from the sun, especially if they're too young to wear sunscreen. Fortunately these baby ultraviolet protection factor (UPF) swimsuits with maximum ultraviolet (UV) protection help protect your child's skin on those hot summer days (and yes, even on the cloudy ones).
About the experts
Here, Romper spoke to two medical experts: Dr. Jessica Madden, a board-certified pediatrician, neonatologist, lactation consultant, and Medical Director of Aeroflow Breastpumps; and Miami-based pediatrician, Dr. Mona Amin.
What is UPF clothing?
Ultraviolet Protection Factor (UPF) is a marker of how much UV radiation is able to reach skin through fabric. According to the Skin Cancer Foundation, a UPF 50 fabric blocks 98% of the sun's rays, allowing just 2% (1/50th) to penetrate.
These days, it's easy to find clothing with UPF tags, but you can also assess a garment yourself to determine how effective they may be in protecting skin from the sun. "When you are choosing sun- safe clothing, look for clothes with a tight weave," Amin says. "This means that if you hold it up to the sun, little light comes through the weaves. The more light that comes through, the more sun gets in. UPF clothing works because of the way it's weaved and the material doesn't allow as much UV rays through the fabric and onto the skin."
If you're unsure of the UPF, hold an article of clothing up to the light to see how much it shines through. Note that UPF does wear off after a while, generally around 40 or so washes, so hand-me-down UPF bathing suits may not hold up over time.
Can babies wear sunscreen?
Both pediatricians interviewed for this story said that because they have such sensitive skin, it's best if babies under 6 months old do not wear sunscreen. Instead they should be kept out of the sun as much as possible.
Instead of slathering your infant in sunblock, Amin recommends using an umbrella, tree, or stroller canopy to cover the baby. "Try to avoid being outside during peak sun. Put on a brimmed hat that protects their delicate face, ears, and neck," she tells Romper, adding that sun protection is important even on cloudy or overcast days.
Madden tells Romper that "per the American Academy of Pediatrics, if you must apply sunscreen to a young infant, use it on small areas of the body, like the face. If a baby is 6 months of age or older you can apply sunscreen all over, you just need to be careful applying it around the eyes and mouth." She says that while babies under 6 months old shouldn't really need UPF clothing (because they shouldn't be in direct sun anyway) "putting babies 6 month and older in UPF 50+ clothing is an excellent way to protect against harmful ultraviolet rays. If you decide to use UPF clothing/bathing suits for your baby or child, make sure to carefully sunblock all exposed parts of the skin, which might not be covered by UPF clothing, including the tops of the ears, hands, and feet."
What to look for when shopping for UPF clothing
The UPF number (which is not the same as SPF) should be very clearly stated on the tag or in the product's description. Note that in order to qualify for The Skin Cancer Foundation's Seal of Recommendation, fabric must have a UPF of at least 30. Their website says, a "UPF of 30 to 49 offers very good protection, while UPF 50+ rates as excellent." Look for a UPF of ideally 50 or close to 50 in a print and style your kid will actually wear (because if they pull off the UPF clothing it totally defeats the point).
We only include products that have been independently selected by Romper's editorial team. However, we may receive a portion of sales if you purchase a product through a link in this article.
With so many great options for keeping your little one safe from the sun, you're sure to have a blast this summer. Just be sure to hit the beach or the pool in a UPF swimsuit or rash guard for babies.
Experts:
Dr. Jessica Madden, a board-certified pediatrician, neonatologist, lactation consultant, and medical director of Aeroflow Breastpumps
Dr. Mona Amin, Miami-based pediatrician
This article was originally published on