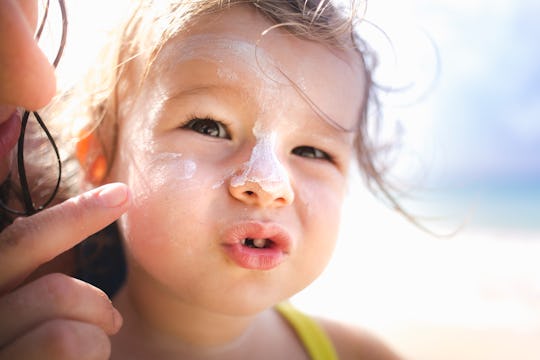 Chad Springer/Image Source/Getty Images
The 15 Safest Sunscreens For Children, According To The EWG
Because sun protection is so important.
As the temperature starts to soar, one thing comes to mind: sunscreen. But when you go through the aisles at your store to purchase one, do you really know what you're looking for? You will now, because the Environmental Working Group (EWG) released its 2022 list of the best sunscreens for children, from babies to older kids, to help keep your child's skin safe.
Just because a sunscreen is stocked on store shelves doesn't mean that it will block the sun's rays — or that it's safe. The EWG reviewed over 1,850 sunscreens, and guess how many met their stringent standards? Only one in four. In fact, an EWG peer-reviewed study from 2021 found that most sunscreens don't provide adequate sun protection, despite what their SPF says. Thankfully, sunscreens that are for babies and kids fare slightly better, with one in three meeting the EWG's safety criteria.
Still, you should know what to look for when it comes to selecting sunscreens. "In general, babies under 6 months should avoid direct sun and wear sun protective clothing," Dr. Marisa Garshick, M.D., a board-certified dermatologist, tells Romper. "Children over 6 months of age should wear SPF 30 sunscreen or higher broad-spectrum sunscreen and make sure to reapply every 2 hours."
As for the ingredients, Garshick recommends sticking to sunscreens with mineral blockers which contain zinc oxide and titanium dioxide. "These work by reflecting UV rays off the skin." Equally as important is to check the sunscreen label to see if it's water-resistant and for how long. "It's recommended to use mineral sunscreens which are physical blockers containing zinc oxide or titanium dioxide; these tend to be less likely to cause sensitivity or irritation," she says. And you should always avoid any sunscreens that contain benzene, which is a carcinogen as well as an environmental hazard, a PubMed study found.
And whether a stick versus a spray is better, the EWG recommends sticking to, well, sticks or lotion sunscreen. "As we have for more than 10 years, EWG continues to recommend that consumers avoid spray sunscreens, because of difficulty with proper application, potential ingredient toxicity, and inhalation concerns." All it takes is a slight breeze for your sunscreen to float away, causing inadequate coverage.
So get ready to slather on these sunscreens to help protect your child's skin and block out a potential burn — and woot, all are safe for breastfeeding mommas, according to Leigh Anne O'Connor, IBCLC, LCCE, a certified lactation consultant. "Since the ingredients are applied topically, all of the products below are safe for breastfeeding parents," says O'Connor. "There is nothing that is toxic or would cause an interruption to milk supply."
Read on to find the best baby sunscreens that will offer protection while they play.
We only include products that have been independently selected by Romper's editorial team. However, we may receive a portion of sales if you purchase a product through a link in this article.
As a parent, you're always looking for the safest sunscreens for kids. Thanks to the EWG sunscreen 2022 list, you'll know which ones offer the most protection. So when you're packing for a day at the beach, be sure to pop any one of these sunscreens into your bag, so that everyone can have a blast — and not worry about a burn.
Study cited:
Hudspeth, A., Zenzola, N., Kucera, K., Wu, Q., Light, D. "Independent Sun Care Product Screening For Benzene Contamination" 2022.
Sources Interviewed:
Dr. Marisa Garshick, MD, a board-certified dermatologist
Leigh Anne O'Connor, IBCLC, LCCE, a certified lactation consultant
This article was originally published on