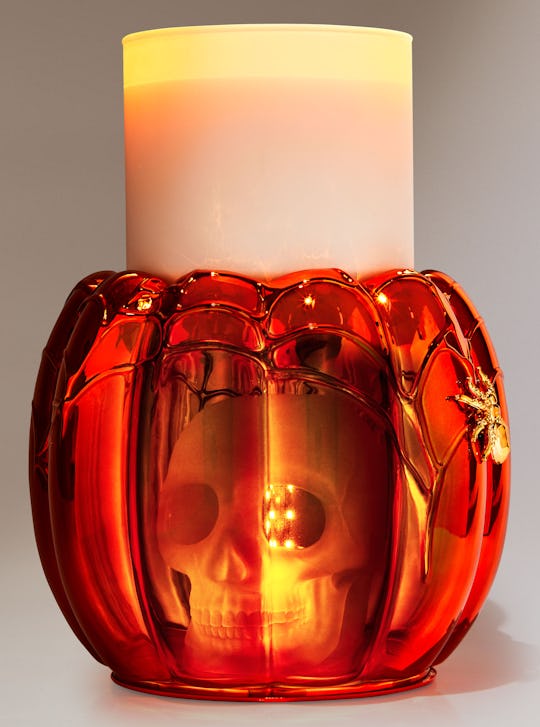 Bath & Body Works
Halloween Is Coming To Bath & Body Works On July 24
Here's what they'll have for you to obsess over this year.
Spooky season lovers, we ride at dawn — or in this case, at the end of July. If you're already planning your Halloween nails and pining for your favorite candy, then you simply must hear the news. Bath and Body Works' Halloween collection is on its way to a store near you. The full range of products — including brand new décor and three new holiday scents — will be available in stores and online on July 24. If you're a loyalty rewards member, you get early access to shop the Halloween selection through the Bath & Body Works app on July 14.
If you're most curious about the mysterious new scents, here's what you can expect:
Moonlit Graveyard: a mysterious blend of tombstone moss, foggy air, and eerie incense
Everlasting Magic: a mystical blend of bejeweled berries, phantom petals, and magic musk
Midnight Spell: a magical blend of mystic air, moonlit woods, and crystal amber
This year's Halloween fragrances will be available in all their usual forms, from hand sanitizers and soaps to lotions and candles. They'll also be joined by returning, beloved Halloween scents, like Vampire Blood (a strawberry and plum monster mashup) and Ghoul Friend (dark strawberries, ghostly peony, and spine-chilling citrus).
A spooky witch hands candle pedestalBath & Body Works
A purple, black, and gold skull car freshener holderBath & Body Works
A haunted carriage Wallflower plugBath & Body Works
An orange pumpkin candle pedestal with a skull peeking throughBath & Body Works
Black and gold snakes wrap around this candle pedestalBath & Body Works
A stained glass look soap holder with a skull and rosesBath & Body Works
A black and gold sugar skull candle pedestalBath & Body Works
A spooky castle Wallflower plugBath & Body Works
There are also so many amazing, eerie, even reptilian new decorations in the lineup this year. Whether you want to bring the spooky spirit to your car, your coffee table, or even your Wallflower scented plugins, Bath & Body Works has glam and traditional options you'll love.
And hey, maybe you're not a Halloween enthusiast and you're not quite ready to let go of summer just yet. Bath & Body Works has some great new products you may not have tried just yet, like their Wild Sand-scented self-tanning mousse, a coconut lip balm with SPF 20, and a new line of breathable nail polishes in bright summer hues. For those of you who are already anxious to watch Hocus Pocus and Halloweentown, well, see you in line at Bath & Body Works (or online) on the 24th.