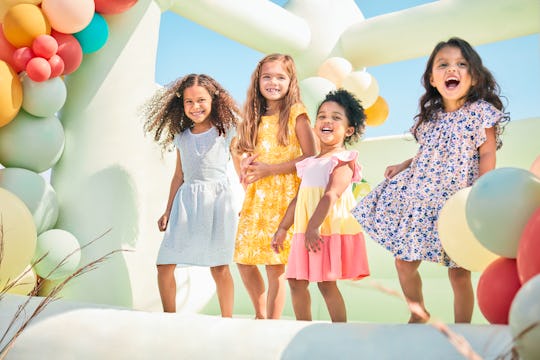 Carter's
The Best Spring Looks From Carter's For Every Occasion
From egg hunts to park days and everything in between.
We may receive a portion of sales if you purchase a product through a link in this article.
There are few things I love more than revamping my daughters' wardrobe for spring. With all the florals, pastels, and sweet little shorts and dresses, there's so much to get excited about — especially because spring has so many fun family activities. I'm a big fan of Carter's for their hand-me-down quality (especially since I have three daughters) and their spring lines are just so good. There are fancy spring dresses for Easter brunch, cute Easter-themed outfits for just being cozy at home, and everything in between. The best spring pieces from Carter's will instantly build out a wardrobe for your kids this season.
Bonus: if you're not into pastels or bunnies on everything (aka, the opposite of me), there is still plenty to love and choose from. Lots of construction vehicles, dinosaurs, and sharks take over the tee section for boys, and there are so, so many differen outfits in plaid and stripes. Read on to find the best spring pieces from Carter's for any spring activity you have planned.
Best Carter's Spring Pieces For A Day At The Park
I'm in the south, which means when it's nice enough to go to the park for the day, you better go and enjoy it before it becomes sweltering hot. (Or, even worse, it goes back to freezing temps halfway through March.) Dressing for the park is definitely a thing, and these spring pieces from Carter's are perfect for all the slides, swings, and sun your little ones can handle.
Best Carter's Spring Pieces For Easter Sunday
Whether you go to church, head to brunch, do an Easter egg hunt, or celebrate all three, these spring pieces from Carter's are just perfect. A little bit fancy, but still playful, there are enough florals and pastels here to make your family look like a basket of Easter eggs. I especially love that all of these can work from the church pews to the front yard to search for chocolate.
Best Carter's Spring Pieces For An Egg Hunt
If the only plan you have for the day is to have the most epic Easter egg hunt in the backyard, then these outfits are perfect. They'll look so cute in pictures (because, come on, you know you're taking a million) and these spring pieces from Carter's aren't too precious. Meaning if one of your kids takes a tumble in the yard while searching for the giant golden egg, you're not going to panic about their ruined outfit. I especially love that the baby options here are very seasonal.
Best Carter's Spring Pieces For A Family Photoshoot
In the south, once the dogwoods start flowering, everyone I know heads outside for family pictures. Pose with the azaleas, the lilacs, the daffodils — whatever backdrop you want, Carter's spring pieces make for some pretty cute accessorized children. Now these pieces below may not necessarily go together for one family picture, but each individual outfit hits all the marks you want in a photoshoot look: patterns aren't too overwhelming, colors are bright, lots of texture and details, and all of them are in color palettes you can easily coordinate with. If you want matchy-matchy, a lot of these looks have sizes from baby to big kid.
Best Carter's Spring Pieces For Bringing Baby Home From The Hospital
I brought a spring baby home from the hospital last April and I absolutely had her in a crocheted bunny bonnet. These are all gender neutral and just so sweet, even if your baby's birthday isn't near Easter. Spring is all about new beginnings and loveliness, and what better energy to have your newborn baby bring than those?
Carter's spring clothes are so happy and vibrant, with a good mixture of fun and whimsy. No matter what spring activity your family's into this season, there are plenty of cute looks to choose from!