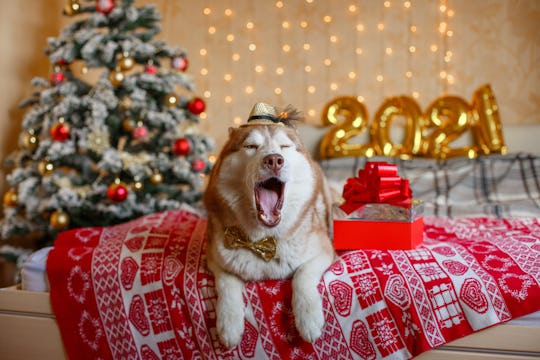 Shutterstock
These Dog Advent Calendars Will Be A Total Treat For Your Pooch
Because your four-legged child deserves to be a part of the countdown to Christmas, too.
It's the most wonderful time of year, and everyone is excited for the countdown to Christmas. And surely your pooch will want to participate in the festivities, too. If you have an advent calendar that you use with your children to mark off the days until Santa Claus comes, you might want to get a second one, too. Why? Well, these dog advent calendars are totally pawsome.
Now, you might be wondering what exactly a dog advent calendar even is? Does it mark off the dates, and how is your Vizsla supposed to even know that it's only 10 days until Christmas? These advent calendars come with both treats and toys that you can give to your dog on a daily basis. (Just don't skip ahead of feed them four days' worth of treats — or it won't be a silent night for any of you.) Be sure to read the back of the packaging to see if there are any potential problems with a toy, or if your pet might have a potential allergy to an ingredient in one of those tasty treats.
So woof your way through the days until Santa Paws comes to town.
There's no reason why you can't include your canine in your countdown to Christmas. In fact, we're pretty sure they'll be so doggone excited to celebrate the season with your family that their tails will be wagging.