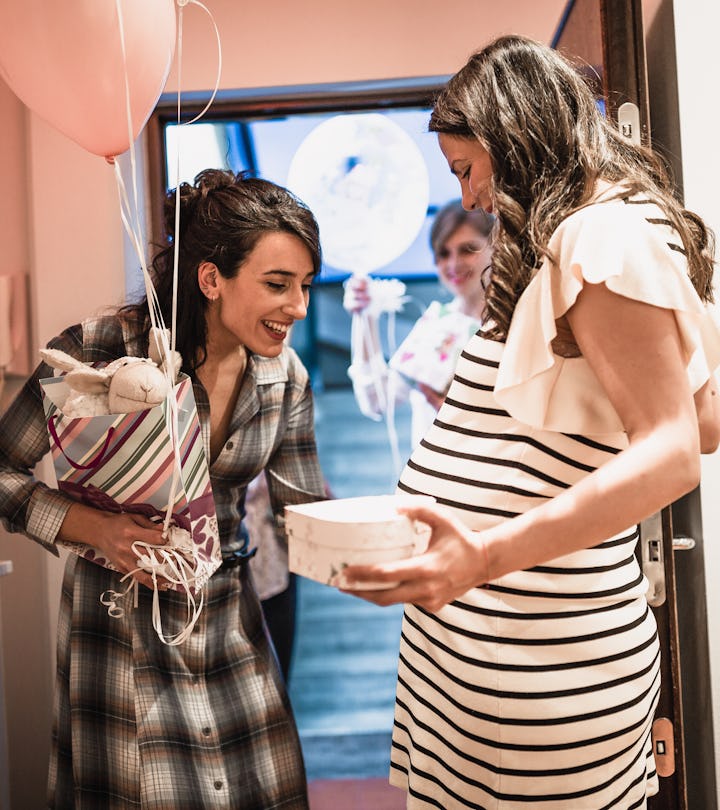 NoSystem images/E+/Getty Images
26 Thoughtful Gifts For Pregnant Women & Expecting Moms
If you really want to show her you care, get her a gift that's just for her.
We may receive a portion of sales if you purchase a product through a link in this article.
Everyone deserves a loving gift now and then, but anyone suffering from first-trimester nausea, second-trimester swelling, or third-trimester discomfort could use a little extra love. While they may not be able to take away food aversions or round ligament pains, the best gifts for pregnant women are the ones that will make them smile, help them relax, or at least take their mind off being kicked in the ribs for a little while.
Even the best and easiest pregnancy is hard on a person's body, emotions, and energy levels in general. After all, a human is being grown and developed, and that's hard work. Add an older sibling (or siblings) in the mix and it's all the more exhausting. Chances are high the person who is expecting is not spoiling herself at the moment and could use a little spoiling from someone else.
The best gifts are the ones with some kind of sentimental value, so whether it's a personalized piece of jewelry, a mommy-and-me outfit, or something that will help her relax in the final stretch of pregnancy, mama-to-be will be grateful for the thought you put into her gift. However, if you're not entirely sure where to start, here are some ideas to help you out.
What to consider when shopping for a pregnant person
If you thought that cute baby clothing and diaper cakes are going to cut it as a holiday gift, think again. While getting those kinds of presents is perfect when you're at a baby shower, if you want to give something to a pregnant person, it should be something that is just for them. Consider the types of things that they like (such as hobbies, interests, or other activities) or even products that can help make pregnancy more comfortable — and pretty, too.
Whatever gift you decide for the pregnant woman in your life, just make sure you put some extra thought into it, because she deserves a little extra love right now. Not to mention, she's hormonal, and wouldn't you rather your gift trigger some pregnancy happy-tears than scary pregnancy rage? It's worth the extra effort to do it right.
This article was originally published on