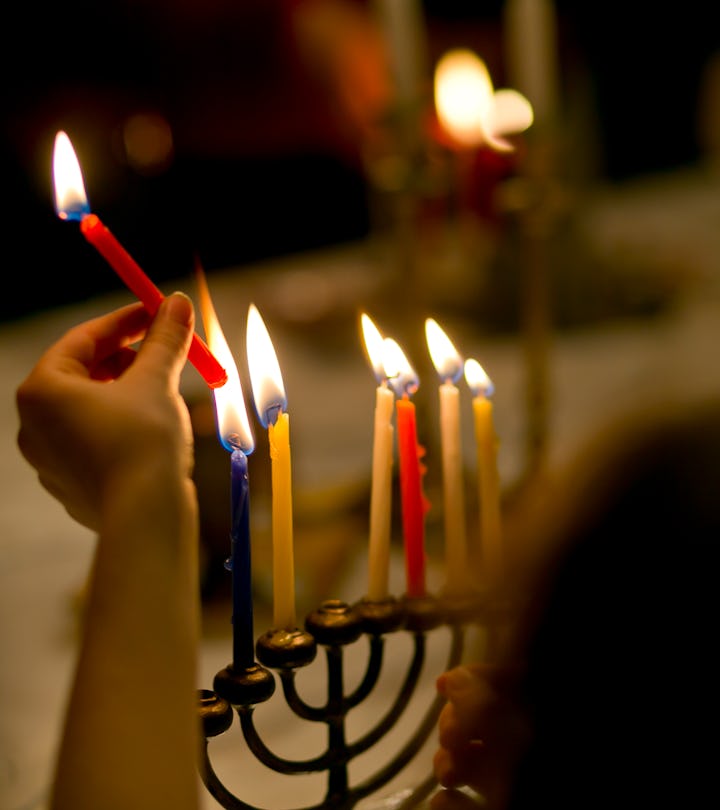 Nathan Bilow/Photodisc/Getty Images
The Best Hanukkah Pajamas
For eight nights of cozy.
We may receive a portion of sales if you purchase a product through a link in this article.
During the eight nights of Hanukkah, a candle gets lit on the menorah. And since the lighting of each candle is significant, it makes sense that you might want to take a photo of your fam as you commemorate this miracle. But what will you all wear? Well, since it's going to be nighttime, PJs seem like a pretty good idea. So if you're looking for the very best Hanukkah pajamas, you're going to have a latke fun choosing from the ones below. You might even turn it into an annual part of your Hanukkah celebrations — perhaps a gift of Hanukkah pajamas for one and all on the first night of Hanukkah, so that the family can wear them for all of the subsequent nights?
You'll find that Hanukkah pajamas really run the gamut from simple and obvious (think dreidels all over the PJs) to intricate, wintery designs that almost look like you could wear them outside. What they all pretty much have in common are the color schemes: You'll find lots of blues, whites, and silver color schemes in each of these Hanukkah PJ sets. Many of the jammies are gender-neutral and more often than not, there will be matching sets so that everyone can get in on the action and be able to wear the best Hanukkah pajamas out there for those eight crazy (but utterly miraculous) candle-lit nights.
Whether they're spinning a dreidel, getting down with some gelt, or helping fry some sufganiyot, your kid will look so cute in their Hanukkah jammies. And if they actually go to bed after opening their present, that will be a miracle, too.
This article was originally published on