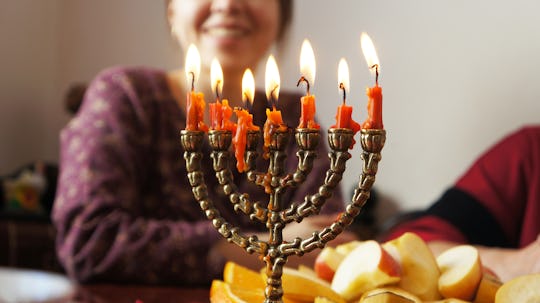 Shutterstock
13 Funny Hanukkah Memes To Kick Off Your Celebration Right
The internet has meme-ified pretty much everything in existence, and major holidays like Hanukkah are no exception. Why not get in on the fun? Funny Hanukkah memes highlight the most humorous moments of the celebration. And because this is the Internet, there are plenty of cat pics, geeky references, and terrible dad jokes ahead. It can only be expected. Latke puns, dreidel jokes, and some unconventional menorahs are all a part of our roundup of funny Hanukkah memes. There is enough material for eight days' worth of laughs. (I do apologize, but the jokes are only going to get worse from here on out.)
What else should you know about Hanukkah 2021? Hanukkah starts on Sunday, Nov. 28, 2021 and continues until Monday, December 6, 2021. There is still plenty of time to fire up those menorahs and celebrate the beautiful Festival of Lights.
If you are feeling a little rusty about Hanukkah history, here is a quick refresher. This eight-day celebration is held every year to commemorate the rededication of the Second Temple in Jerusalem, in which the Jewish people stood up to their oppressors in the Maccabean Revolt. The celebration lasts for eight days because, during the time of this conflict, the Greeks trashed all of the oils in the Temple. Because oil was the source of light in the days before electricity, this was a major problem, and when the Jewish people finally defeated their oppressors, only one vessel of oil remained unharmed. It should have only lasted a day, but this oil miraculously provided eight days' worth of light. The yearly Hanukkah celebration commemorates this miracle.
Although the holiday is a sacred event, there are plenty of humorous and lighthearted takes on Hanukkah traditions most anyone can appreciate. For instance, you can buy funny menorahs made to look like elephants, octopi, or even dancing rabbis. Also, there's the inevitable mash-up of Dr. DreDel merch and memes all over the internet. The resulting image is hilarious, of course. For still more Hanukkah funnies, continue reading these memes.
However you plan to celebrate this year, these funny Hanukkah memes are a hilarious way to get you started (it's never too early to dole out unsolicited dad jokes). And there is plenty more than enough here to last you all eight days and nights.