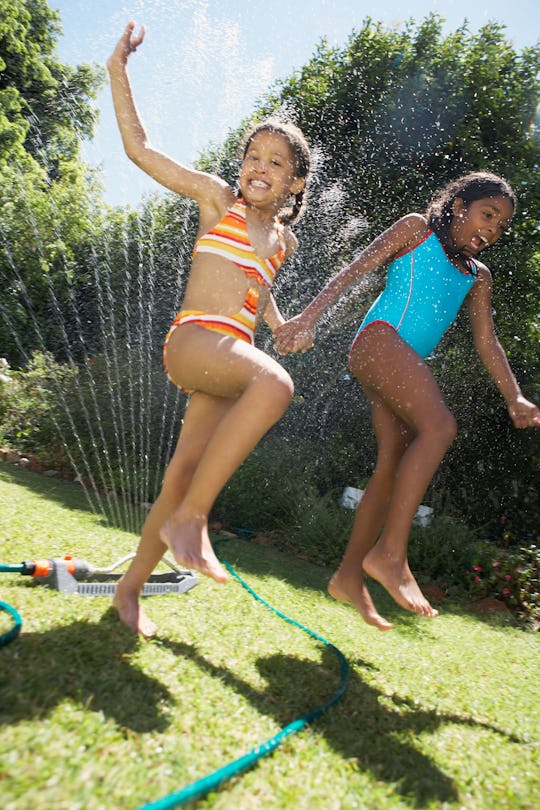 Felix Wirth/Corbis/Getty Images
The Best Inflatable Sprinklers For Kids (& Grownups)
Pump up one of these impressive sprinkler structures and watch the kids come running.
Who hasn't attempted to run through a sprinkler without getting wet? That's half the fun of turning on the hose. Even adults have to smile at the tinkling sounds and cold bursts of water the summer staple provides. But inventory has come a long way since the days of those old rusty lawn fixtures your parents — and your parents' parents — likely had strewn about their yards. Huge sunny rainbows, mythical creatures, basketball hoops, and attached pads for splashing can all make inflatable sprinklers even more fun. Just try and set up one of these picks and see if your whole family isn't delighted. And before you start sweating the work, consider starting your summer with the purchase of an automatic air pump. It'll quicken the set-up of most of these sprinklers.
If you find yourself considering one of these sprinklers and watery fun zones, you'll probably start to wonder when your toddler should learn how to swim. Some supervised babies can begin to learn and grow accustomed to a pool before their first birthday. But no matter how old or young your little one is, stay close by as they play in any pool, pad, or splashy situation. Now, on with the shopping!
We only include products that have been independently selected by Romper's editorial team. However, we may receive a portion of sales if you purchase a product through a link in this article.