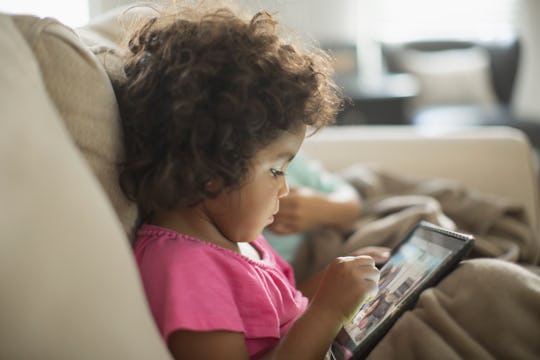 John Fedele / Getty
20 Kindle Fire Apps For Toddlers That Will Actually Hold Their Attention
These apps are fun & (mostly) educational.
Raise your hand if you've ever handed over your phone or tablet to your toddler, then realized that meant that you couldn't use your own device. After all, what's the point of giving your child screen time if you can't use the 20 minutes of quiet to answer emails and scroll through Instagram? This is why Kindle apps designed for toddlers are so key — there's a myriad of age-appropriate programs and most are ad-free, so you don't have to worry about your child winding up on something unsettling or just plain weird (my nephew, for example, refuses to watch anything other than a hamster riding a LEGO train after stumbling upon it on YouTube).
Kindle apps for kids are typically under $5 (and some are free), and you can set parental controls or make it so that your toddler can't make any surprise in-app purchases. You can download straight from the Kindle Fire home screen, or on your Amazon account. Whether your toddler loves PBS shows, vehicles, building, Baby Shark (sorry) or coloring, there's an app for that.
Just note that while there is a great Kindle Kids E-Reader, it's actually designed for distraction-free reading and doesn't support apps, so you're better off with a regular Kindle if games are what you're after. Read on for 15 of the best Kindle apps for toddlers that are sure to get you at least a few minutes to yourself.
We only include products that have been independently selected by Romper's editorial team. However, we may receive a portion of sales if you purchase a product through a link in this article.
These Kindle Fire apps for Toddlers will be your go-to on long car or plane rides, or when school is cancelled and you need some time for yourself (or to work). Rest assured that they're age-appropriate, and your kid will probably even learn something while they play.
This article was originally published on