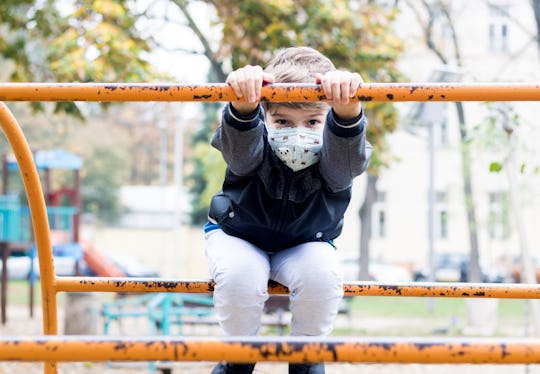 Vera Kevresan / EyeEm/EyeEm/Getty Images
Where To Find The Best KN95 Masks For Kids
But remember, any mask is better than no mask right now!
It's been a long two years for parents, thanks to school closures, social distancing, sanitizing, mask-wearing, vaccines, and more nasal swabs than anyone ever dreamed possible, the pandemic is still with us all.
The Centers for Disease Control and Prevention (CDC) still recommends that everyone aged 2 and older should wear a mask indoors if unvaccinated. Many experts now recommend wearing respirator masks like KN95, KN94, and N95, with multi-layered filtration systems, as opposed to a simple cloth face mask. "They are very comfortable, and they give excellent protection to yourself and to others. So it's a win, win, win," aerosol scientist Aaron Collins recently told Romper.
We've combed reviews to find which N95 and KN95s have the best fit and the least complaints from kids. And you'll want to stock up, since you can't reuse these masks for more than a few days.
If you or your family need masks, you can also sign up to receive four free masks per address, which will be mailed out at the end of January.
We only include products that have been independently selected by Romper's editorial team. However, we may receive a portion of sales if you purchase a product through a link in this article.
This article was originally published on