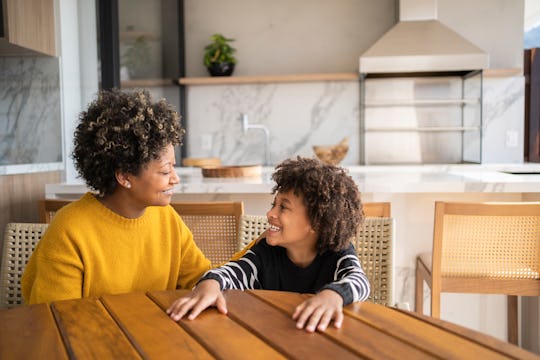 Renata Angerami/E+/Getty Images
These Are The Funniest Knock-Knock Jokes Kids Will Actually Get
Get ready to groan (and laugh) with these jokes that'll tickle your family's funny bone.
You can't get more groanworthy than kid knock knock jokes. But even when they're somewhat silly, they're still a great way to get some giggles in with your kids. So if you want to perk up your preschooler, or finally get your tween to get their face out of their phone, you might want to knock them out with any of these knock knock jokes for kids.
With their signature style of "Knock knock, who's there?" the options are endless on how the gag can go. And that's what ultimately makes them so appealing, according to Rob Elliott, the creator of the Laugh-Out-Loud series of joke books and author of Knock Knock Jokes for Kids. "Knock-knock jokes can be fun for kids of all ages," says Elliott. "Even a preschooler can have fun with the silliness of play-on-word jokes as their use of language is developing." And because they're interactive (instead of waiting for a punch line), it opens up the opportunity to create memorable moments with your child. Adds Elliott: "This is a great way to build a young person's confidence as a person and as a reader without even knowing they're learning."
So prepare for the puns and cue up the corniness, and enjoy these kid knock knock jokes that are sure to knock your kid's socks off.
Knock knock jokes are a great way to engage with your child — and get some laughs in, too. Not only can they learn new language skills, but it can help boost their confidence as well. Now, if only learning some knock knock jokes would teach your kiddo to actually knock on the door before they barge in on you in the bathroom.
This article was originally published on