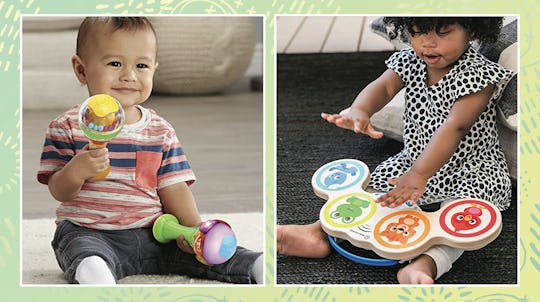 Romper / Amazon
The 12 Best Music Toys For Toddlers
We only recommend products we love and that we think you will, too. We may receive a portion of sales from products purchased from this article, which was written by our Commerce team.
Introducing your little one to the musical aspect of play is great for early development — studies have shown that listening to and making music are linked to speech and motor skills development. The best music toys for toddlers are interactive, educational, and engage kids' senses with sounds that (hopefully) won't overly annoy parents and guardians. They're also durable, so you know they'll last for many jam sessions to come.
Some toys can produce different sounds that range in tone, volume, and rhythms depending on how your child interacts with it. Drum sets, maracas, and tambourines are just a few examples of classic music toys that focus on tone and rhythm and that teach cause and effect. Other educational toys also pair visual effects alongside musical ones — this can look like a piano that pops colorful balls into the air when you press its keys or a xylophone that plays different notes when you hit a ball over the keys with a hammer.
Another thing to keep in mind (for your sake) is how loud a toddler toy is. Having the option to adjust a toy's volume level can be a huge plus. Some music toys don't have adjustable settings, though — in that case, check how other parents describe the sound level in their reviews to choose one that won't irritate you.
As all toddler parents know, durability is important when shopping for any toys. Kids at this age can be pretty rough and tumble, which means you should opt for ones that will be able to survive multiple hits, scratches, and drops to the floor without ruining the toy's key functions. Just remember to always supervise playtime to make sure they're playing with the toys safely and prevent any accidents.
Whatever instruments your little musician is into, the options below are sure to bring out their creative side — and they might bring out your child's natural dance moves, too.
Studies referenced:
Miendlarzewska, E. A., & Trost, W. J. (2014). How musical training affects cognitive development: Rhythm, reward and other modulating variables. Frontiers in neuroscience. https://www.ncbi.nlm.nih.gov/pmc/articles/PMC3957486/.
Zhao, T. C., & Kuhl, P. K. (2016). Musical intervention enhances infants' neural processing of temporal structure in music and speech. Proceedings of the National Academy of Sciences of the United States of America. https://www.ncbi.nlm.nih.gov/pmc/articles/PMC4868410/.