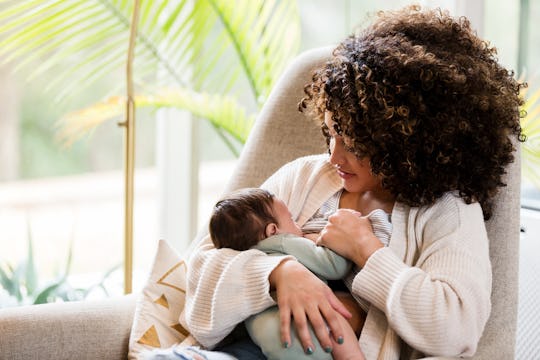 SDI Productions, Getty images
16 Cute Nursing Tops You'd Want To Buy Even If You Weren't Breastfeeding
You'd never even guess they were breastfeeding-friendly.
You're already tired in your fourth trimester, and figuring out what to wear on your postpartum body is no small feat for the sleep-deprived mind. If you're no longer pregnant can you still wear maternity leggings? (A resounding yes). But your old shirts may not cut it and if you're planning to nurse or pump or both, so you're going to need the best nursing tanks, shirts and other tops that money can buy to make life a little bit easier once baby arrives.
Gone are the days when the only option for breastfeeding parents were button up shirts and nursing tanks under bulky cardigans. Thanks to hidden zippers, cleverly placed snaps, loose necks, and drapey shapes with underlayers, there are easy ways to breastfeed without compromising on style. All of the nursing shirts on this list are comfortable enough to wear even after you wean, and they all offer easy access for feeding on-the-go (yes you will one day be "on the go" again), and they're stylish enough for you to look put together even if you don't quite feel that way. For total ease, don't forget to pair a comfortable nursing bra with your shirt for the most seamless breastfeeding experience.