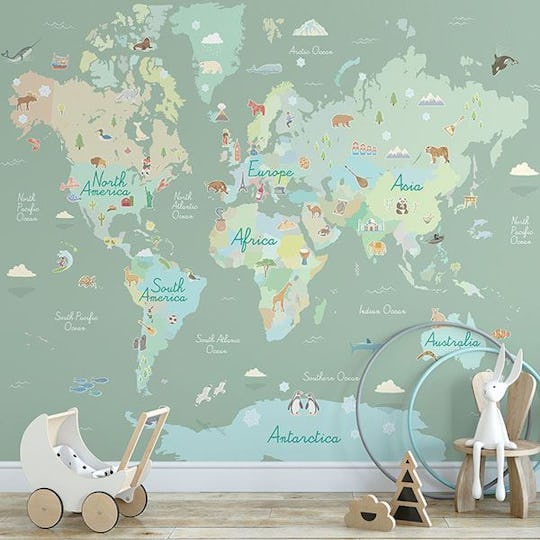 Wall Pops!
Give Your Nursery A Temporary Makeover With Peel & Stick Wallpaper
Because babyhood won't last forever.
Decorating a nursery can be costly, especially if you go full nesting mode and decide to wallpaper the room. Pro tip: Skip the mess of paste-up papers and opt for peel and stick instead. This DIY home decor option isn't just easy to remove, it's attractive too. Just take a look at these 13 removable nursery wallpaper options.
Far from merely an application of a series of stickers on your wall, the best removable nursery wallpapers come in all kinds of intricate designs. There are charming floral looks, constellation displays, and plenty of modern patterns to choose from. But for any family about to welcome a newborn, the real boon is in knowing that should the walls get messy from any number of liquids or solids, you can yank off the sticky paper and start again.
This brilliant invention takes the pressure off commitment phobes by allowing you to keep it up for as long as you like, then pull it away when you're done. Especially ideal for renters, most removable wallpapers promise not to leave a sticky residue, so you won't have to repaint before you move. Childhood is temporary; why make a kid live with Sesame Street wallpaper until they're 18 just because you don't want to hassle with taking it down? Peel and stick paper spares you and them from that inevitability.
We only include products that have been independently selected by Romper's editorial team. However, we may receive a portion of sales if you purchase a product through a link in this article.
Ready to get decorating? Remember, removable wallpaper requires careful prep work. That means measuring your space and reading the fine print of the brand you choose before you put it up. Do all that, and you'll have a gorgeous nursery in no time.