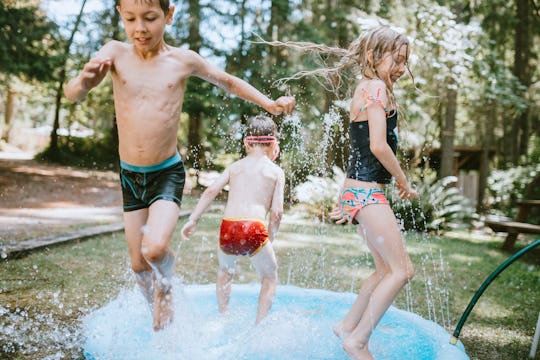 RyanJLane/E+/Getty Images
The Best Splash Pads For This Summer
And they're perfect for smaller spaces.
Ready for a "get off my lawn" moment? When I was a kid, all we had to keep cool and splash in for the summer were those metal sprinkler systems that were made to actually water the lawn — not necessarily for a kid's use for summer fun — or those plastic pools that always seemed to fold into themselves while you were in it. Now kids have these amazing splash pads they can use all summer long, and to be fair, childhood me is pretty jealous. I'm not alone. When the pandemic hit, inflatable pools and other outdoor toys completely sold out as parks and community splash pads shut down.
But now that we know how awesome splash pads in our own backyard are, I think this outdoor toy will be something to buy and over again after the original ones wear out. If you choose one from this list, you'll definitely be getting a big bang for your buck and your kids will have a summer full of splashing. These all have great reviews, and are at a variety of price points. Plus, one of the best things about a splash pad is how easy it is to set up, to store, and you don't have to worry about a whole pool full of water. All of this summer fun without breaking your Dad's sprinkler or breaking your foot on said sprinkler. It's a win-win for the entire family.
We only include products that have been independently selected by Romper's editorial team. However, we may receive a portion of sales if you purchase a product through a link in this article.