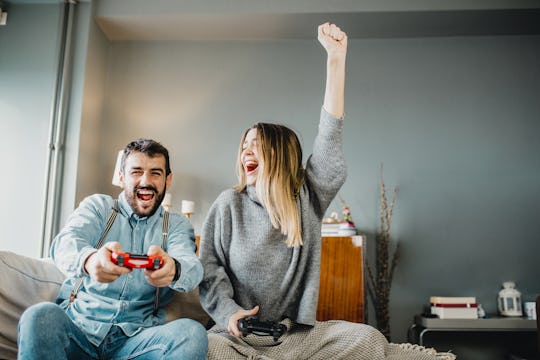 BlackCat, Getty Images
18 Best Video Games For Couples Who Enjoy A Bit Of Competition
Of course Mario Kart made the list.
Sometimes playing games in your relationship is a good thing, if you're talking about Rocket League or Stardew Valley. As the best video games for couples prove, there's nothing like a little friendly competition to keep that spark alive. Whether you like racing, team sports, role-playing games, or a little bit of everything, there's sure to be a game you and your partner will love.
Because 64 % of U.S. adults are video game players, according to the 2020 Essential Facts About the Video Game Industry report from ESA, chances are at least one person in the couple is already a gamer. Gaming is basically everywhere, and with good reason: there's something for most everyone in the gaming world now. For a bonding experience, try a cooperative game that requires you to work together. (Puzzle-solving games are great for this.) Feeling more competitive? A racing or brawler style game might be more up your alley. Big franchises such as Mario and Pokémon are still producing fun titles, and there's a whole world of indie gamers creating wildly imaginative, gorgeous, and sometimes downright bizarre games. So fire up your PC or console and enjoy the best video games for couples who take this whole having fun thing very seriously.
We only include products that have been independently selected by Romper's editorial team. However, we may receive a portion of sales if you purchase a product through a link in this article.