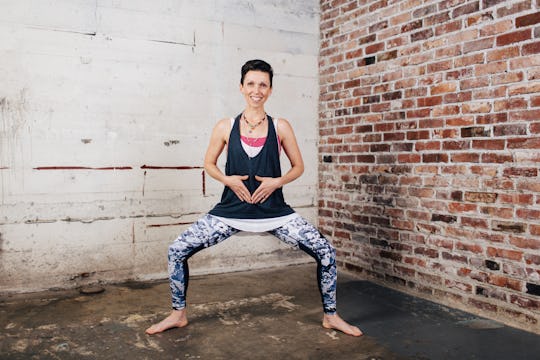 Courtesy of Blair Fillingham
This Mom Figured Out A Way To Make Pre- & Post-Natal Yoga Actually Work For Your Schedule
For many women, finding time for self care often takes a backseat to juggling the responsibilities that come along with their careers and motherhood. That juggle can lead to feeling lonely, tired, and extremely stressed out. Blair Fillingham started MTRNL.com, an online, interactive yoga studio that specializes in prenatal and postnatal classes for mothers, in an attempt to address those feelings. The Australian-born mother of two, who is one of Romper's 2017 Made It Award honorees, has literally made it her business to give new and expectant moms time to recharge and connect with others.
Fillingham's journey to starting MTRNL began, like so many startup journeys do, while she was still working a corporate job. She had always enjoyed yoga as a way to exercise and unwind, but after years climbing the proverbial ladder, she decided to switch gears and begin teaching prenatal yoga classes in Downtown Seattle. "Logically, I knew I would be earning a lot more money in the corporate world. But I just had this gut feeling that it wasn't enough of a reason to be away from my children. I needed a really good reason to put them into day care," Fillingham recalls. But when her family found their dream house in a small town 35 minutes outside of the city, Fillingham decided her career needed another reboot. She loved teaching yoga, but found that the commute to Seattle was cutting into the time she had to spend with her husband and daughters, Kendall, 5, and Matilda, 3. After a lot of reflection and conversations with her husband and trusted mentors, Fillingham decided to open her own yoga studio on their 5-acre property.
I can't talk to my students about the importance of self-care unless I do my own practice
However, she didn't want to limit access to her classes to people who could physically walk into her studio. So Fillingham started researching ways to create an online yoga class for her students. Determined to be more than just a resource for pre-recorded class videos, with MTRNL.com, Fillingham has been able to create a virtual community in which the classes are conducted live and allow for direct communication and support for her students. In addition to demonstrating postures, she makes sure to make time for her students introduce to themselves to one another and share how they're feeling with the group. "Pregnant women and new moms just really want to be heard and to have someone know how they're feeling," Fillingham says.
And the concept is catching on. Fillingham notes that her students come from all over the globe — from her native Australia to small towns across the United States. She loves that her online classes gives moms, who may not have time or the convenient access to a yoga studio, an outlet to practice.
While launching a new business can be hard enough on its own, Fillingham makes a conscious effort to make sure she doesn't let her work interfere with her time with family. "I have to be clear on limiting how much time I work, and about how much time I really need to get things done. I will let [my kids] watch Moana if I have a deadline or something. But generally when I'm with them, I'm all in, 100 percent," Fillingham says.
With all of the time she spends caring for her family and teaching her classes, Fillingham still manages to squeeze in a little time for herself, by taking a weekly ninety-minute yoga class with one of her favorite teachers after she drops her children off at school. She encourages other moms to schedule in time for self-care the same way they would a business meeting or a haircut. "I can't talk to my students about the importance of self-care unless I do my own practice," she says.
Fillingham's advice to other moms looking to launch their own businesses is to listen to their hearts. "Talk to your mentors. Find people in your community and build a network of people you can talk to about your ideas," she says.
I'm creating a reason for us all to hang out together.
Going forward, Fillingham hopes to expand her community and encourage more moms to join in on the classes. She'd also like to be an advocate for issues that impact mothers, including proposing a new maternity leave policy for the United States. She feels lucky to have found a way to share her love of yoga with other moms and moms-to-be in a way that works for her family.
"I'm the teacher, but I really just see myself as creating this space and holding this space for everyone to come together. I'm creating a reason for us all to hang out together," Fillingham says.
To get to know Fillingham better, check out her Romper Screenshot below:
Watch Romper's new video series, Romper's Doula Diaries:
Check out the entire Romper's Doula Diaries series and other videos on Facebook and the Bustle app across Apple TV, Roku, and Amazon Fire TV.