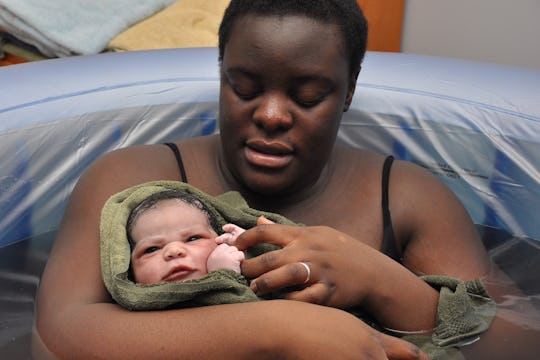 myrrha / Getty
If You're Having A Water Birth, These Bras & Clothes Are Perfect
You don't have to wear a bathing suit (unless you want to).
Regardless of your birth plan, there's a lot to think about, and you understandably may not have given a lot of thought to your outfit (considering you'll end up at least partially nude). But labor can be long, and the last thing you'll want is any type of clothing that feels heavy or constricting, which is why these bras and clothes for water birth are so great. If you're planning on a water birth, or just keeping your options open, the clothes on this list will keep you comfy and covered, and they'll dry quickly in case you decide it's time to get out of the tub and onto the birthing ball or bed.
Whether you want to wear a stretchy sports bra or you'll feel best in a loose fitting dress or a skirt made with labor in mind, there's something here for you. Best of all, many of these items can be worn while you're pregnant, then packed in the hospital bag, and worn again in the postpartum period. From bathing suits to bras or even a few soft tees (one with a powerful message), there's nothing on this list that will need to be dry-cleaned and nothing that's too precious because, as you know, birth can be a bit... messy.
We only include products that have been independently selected by Romper's editorial team. However, we may receive a portion of sales if you purchase a product through a link in this article.
This article was originally published on