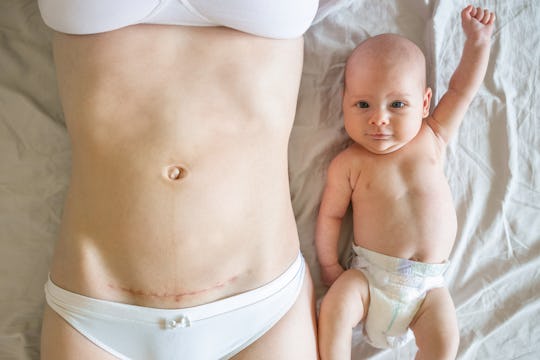 Shutterstock
11 Doctor-Recommended C-Section Scar Removal Products
They're even safe to use while breastfeeding.
Labor and delivery definitely takes a toll on your body, but especially so if you have a cesarean section. Even though you might take pride in your battle scars, you might not want such a prominent scar on your lower abdomen. If you're looking for products to help minimize your C-section scar, these are the best C-section scar removal products and treatments.
What to consider when buying a c-section scar cream
It's important to keep some perspective when it comes to your postpartum body, and in particular, your C-section scar. While some products and treatments might help minimize the appearance of said scar, you might not ever be able to eradicate its visibility entirely. "Women who are having surgery to deliver their baby will ask if there is anything that they can do to minimize the scar or help it to disappear," OB-GYN Dr. Monique Brotman, M.D., tells Romper. "The answer is maybe." After all, there are so many factors that can affect the healing of your incision, such as your skin type, your age, how healthy you are — even the direction of the scar.
But if you want to slather your skin in something to reduce the appearance of the C-section scar, there are specific ingredients to look for, says Dr. Shari Sperling, M.D., a board-certified dermatologist. "Creams and gels that are used for scars typically are silicone-based," Sperling explains to Romper. "These silicone preparations help with the appearance of scars and are generally considered safe, but one should always check with their pediatrician prior to use while breastfeeding."
If you're looking for a more aggressive treatment, you can always try cortisone injections, says Dr. Adarsh Vijay Mudgil, M.D., New York City-based dermatologist and author. "During the period of nursing, I typically perform cortisone injections to flatten thicker scars and recommend a silicone containing scar cream to be used topically," says Mudgil. "Treatments can be initiated as soon as sutures are removed (which is actually the best time to start). Once the scar is flat, laser treatments can be used (non-ablative fractional laser resurfacing) to blend [the scar] in with the surrounding skin."
In the meantime, you can try these products to minimize your C-section scar, all of which are safe to use while breastfeeding, according to Leigh Anne O'Connor, IBCLC, LCCE, a certified lactation consultant. "Since the ingredients are applied topically, there is nothing that is toxic or would cause an interruption to milk supply for breastfeeding moms," she reassures.
We only include products that have been independently selected by Romper's editorial team. However, we may receive a portion of sales if you purchase a product through a link in this article.
Just like no two C-section births are the same, neither are the ensuing scars. And while you might never be able to erase your incision entirely, these products can make them less visible, while still reminding you of the empowering person you are for giving birth.
Experts:
Dr. Monique Brotman, M.D., an OB-GYN
Dr. Shari Sperling, M.D., a board-certified dermatologist
Dr. Adarsh Vijay Mudgil, M.D., NYC-based dermatologist and author
This article was originally published on