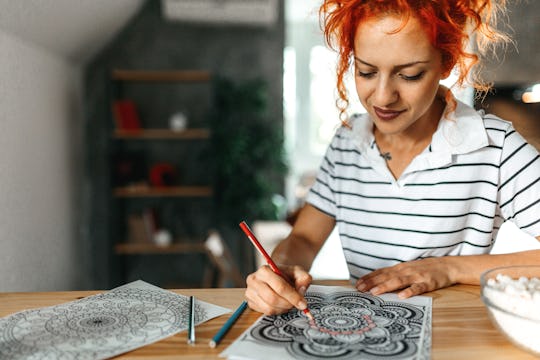 CreativeDJ/E+/Getty Images
Color Your Stress Away With These Free Printable Pages
Grab the colored pencils.
Remember when you were a kid and you could spend hours working on a coloring book? Something about it felt therapeutic and mesmerizing at the same time. Studies have shown that like art therapy (but to a lesser degree), coloring can reduce stress. Are you thinking what I'm thinking? Let's get coloring. Here are 15 free printable coloring pages for adults.
Now, the key to really letting yourself go with these printable pages is to first have your colors ready from the get-go. Either steal your kiddo's crayon box or find some old colored pencils. Make sure you have a sharpener handy if using the latter — nothing's more annoying when you really want to use a teal pencil but the tip is broken and you have to opt for a navy blue instead, am I right? Then, pick a coloring page that suits your mood. There's a wide range to choose from, whether you're into high art or mandalas or cartoons. Another pro-tip to promote calm? Maybe pour yourself a cup of tea or a glass of wine, turn on some soothing music, and melt into the relaxing coloring world, a place where the biggest stressor is what hue to choose and whether or not to color within the lines.
This article was originally published on