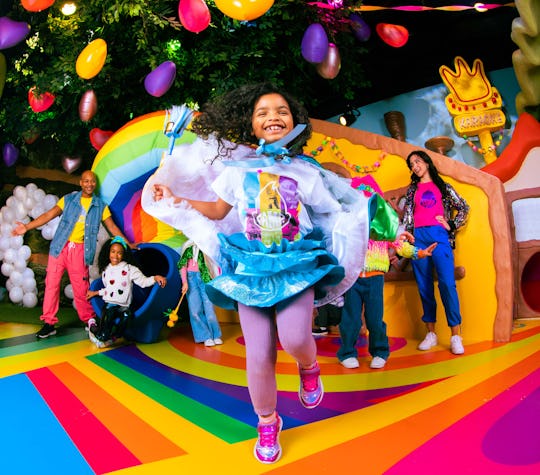 CAMP
Band Together With The Trolls CAMP's Latest Pop-Up In NYC
It'll be a never-ending feast of happiness.
As all New Yorkers are surely aware of, finding new and innovative indoor activities for kids as the days get colder can be a struggle. How do you keep your kids entertained when you're facing inclement weather and they're getting bored of the local museum and library? Well CAMP — a children's store that specializes in interactive experiences — is hosting an incredible event in their New York City location for fans of the Trolls franchise.
CAMP is a toy store that hosts tons of immersive months-long events based on themes or popular kids' movies and shows — the entire store gets transformed to match recognizable settings to make guests feel as though they have stepped through their screen and into a real-life version of an animated world. Past themes include Bluey, Encanto, Paw Patrol. And soon, they'll be delving into the land of the Bergens. Stepping inside a fictional world your child already loves is pretty much their dream, right? So, if your kid is dying to meet the Trolls and play in a mini-world designed to look just like the movie, you're going to want to check this out.
What, when and where is Trolls x CAMP?
Trolls x CAMP, will transport visitors to the land of trolls — literally. The entire back section of the store, which is hidden behind a bookcase, will be transformed into various different settings inspired by the newest movie, Trolls Band Together: Bergen Town, Vacay Island, and Pop Village. Each section will have fun activities, like the pool noodle jungle gym and the Trolls Tree. Plus, you won't want to miss the tunnels lined with troll hair, the video game where you can navigate Rhonda to Mount Rageous, and Mr. Dinkle's spa where troll-inspired makeovers will be done. And of course, there will be sing-alongs to the songs from the movie. You'll also get to meet Poppy and Branch, the main characters in the film series, and take a selfie with them.
Once you're done with the activities, which they estimate to take about an hour, you can shop the CAMP store. They will be selling co-branded apparel and accessories in a part of the store that will be designed to look like Poppy's scrapbook station.
Trolls x CAMP begins on November 17 and will be moving to another CAMP location (which has yet to be announced) after February 19. Like their Bluey x Camp experience at their Los Angeles location, this one is by ticket-only.
Who is Trolls x CAMP for?
The experience is tailored for kids ages 3 to 8, however, on their website it says that anyone who enjoys the Trolls franchise (child or adult) will enjoy this (The latest movie includes a new song by NSYNC, so any millennials who loves a reunion of their favorite band will naturally be a fan of the flick). The website also encourages that everyone come wearing comfortable clothes because of all the activities they have that include climbing, dancing, and running around.
The extravagant escapade will not be guided, so families are free to do whatever they want. However, there will be "trolls" involved in moving everyone throughout the tour before the hour is up, so it's both engaging and freeform. Their site ensures that the experience is ADA compliant and wheelchair accessible, with diverse choices of fun to partake in. CAMP is also able to provide sunglasses and headphones to any guests who may experience sensory sensitivities.
How much is Trolls x CAMP?
Tickets for this magical event range from $39 to $48 depending on the day and time you choose, and can be purchased on CAMP's website. Anyone over the age of 2 needs a ticket to enter and participate, and the tickets are non-refundable and non-transferable but can be rescheduled for a fee until two hours before the event.
Don't forget — if you're not going to be in NYC between November and February, Trolls x CAMP will move to one of CAMP's other locations in the future, so you won't have to miss out. The CAMP website advises that anyone interested in hearing about future announcements should follow their Instagram, @campstores.
This article was originally published on