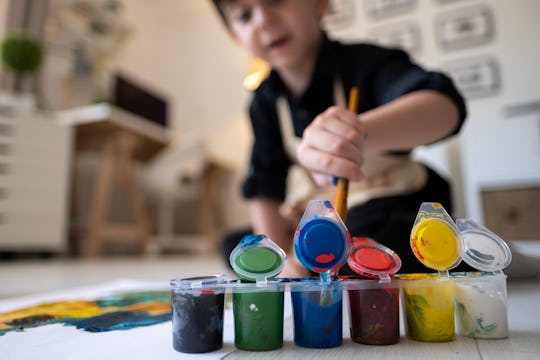 ridvan_celik/E+/Getty Images
These Beautiful Children's Books About Art Are Eye-Opening
Biographies, stories, and adventures in art.
For a lot of kids, there's nothing better than sitting down with some paint, crayons, chalk, or markers to create their latest masterpiece. Caregivers can encourage their kids to lean more into that interest with some children's books about art. Whether they want to learn about famous artists, practice new techniques, or simply get lost in a story about art, there are some incredible books for them to choose from.
If you're a caregiver to a kid, you probably already know whether or not your child has a love for art (hint: if you have to throw away pictures on a daily basis because they bring home so many, then it's safe to assume your kiddo is a fan of art). It's a fantastic thing for them to be interested in because it allows them a way to express their creativity now and it's also something that studies have shown can help them reduce and manage stress as they grow up. So, if investing in a few children's books about art now will help keep them excited, then it's definitely worth it.
The only question now is, where exactly can you find children's books about art that are age-appropriate and fun for your little one? There are a lot of options out there, but here are some favorites to help you get started with your shopping.
We only include products that have been independently selected by Romper's editorial team. However, we may receive a portion of sales if you purchase a product through a link in this article.