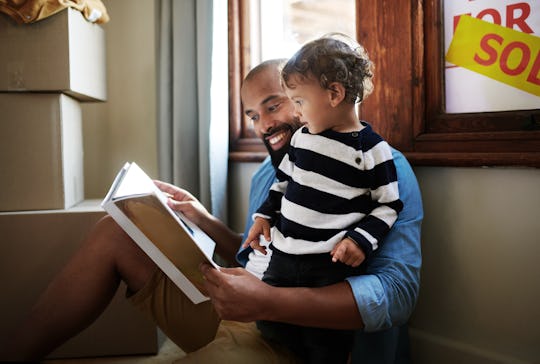 Dean Mitchell/E+/Getty Images
These Books About Dad Are Perfect For Father's Day Storytime
Bad jokes, adventures, and big hugs await.
If you take a look at your kid's bookshelf, you'll probably find stories about princesses, pirates, talking animals, and kid-size adventures. Since they could always use an extra book in their library, why not add some children's books about dads to the mix. After all, what's more entertaining and endearing than a fun-loving dad?
When I was a kid, there was nothing I loved more than snuggling up with my dad as he read me my favorite bedtime story. Even now, as an adult, I can vividly remember the joy I felt with every turn of the page. I see that same joy in my own daughters' faces whenever they settle into bed and give all of their attention to their dad and he reads them their bedtime books. So it only seems appropriate that they have a few books that put a spotlight on the sweet bond they have with their dear old dad.
There is no shortage of great kids books about dads out there. In fact, the hardest part is trying to narrow down your options. Do you want something silly? Sweet? Thoughtful? Whatever it is you're looking for, there is a book for it. Here are just some of the many options to choose from.
We only include products that have been independently selected by Romper's editorial team. However, we may receive a portion of sales if you purchase a product through a link in this article.
Every dad is unique in his own way, but they're all very loved. Help your kids remind their dad of this by adding a few of these sweet books to their bookshelves and making storytime all the sweeter.