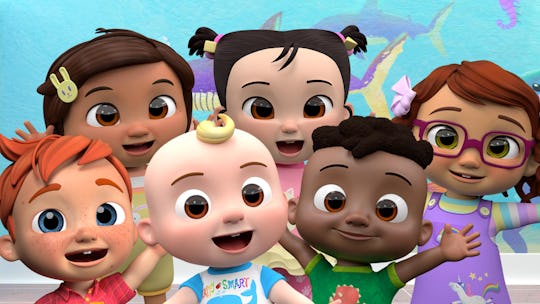 Netflix/CoComelon
Every Toddler Who Loves CoComelon Will Flip For These Toys & Gifts
Dolls, hair clips, coloring books, and more.
For kids who love the YouTube channel CoComelon, there's nothing like those upbeat nursery rhyme sing-along songs. If you have a younger kid at home, chances are you've heard the "Train Song" at least a few zillion times. That's why the CoComelon toys and gifts for every tiny fan are guaranteed to be such a hit. And as a kindness to parents everywhere, not *every* toy plays music or songs (although many do).
With 121 million subscribers, the wildly popular CoComelon YouTube channel racks up millions of views with its sing-songy animated videos. Depicting the everyday lives of little kids, CoComelon videos teach preschoolers about letters, numbers, and animal names, as well as general life skills. (The "Bath Song," with an astounding 3.6 billion views, teaches kids about hygiene to the infectious tune of the "Baby Shark" song. It will get stuck in your head for days on end.) Devoted fans of the channel will recognize recurring characters such as Mommy, Daddy, YoYo, TomTom, and of course JJ, the youngest member of the family. If your kiddo loves the CoComelon family and their endlessly catchy songs about daily life, then these CoComelon gifts and toys for sale now are sure to be a hit.
We only include products that have been independently selected by Romper's editorial team. However, we may receive a portion of sales if you purchase a product through a link in this article.
This article was originally published on