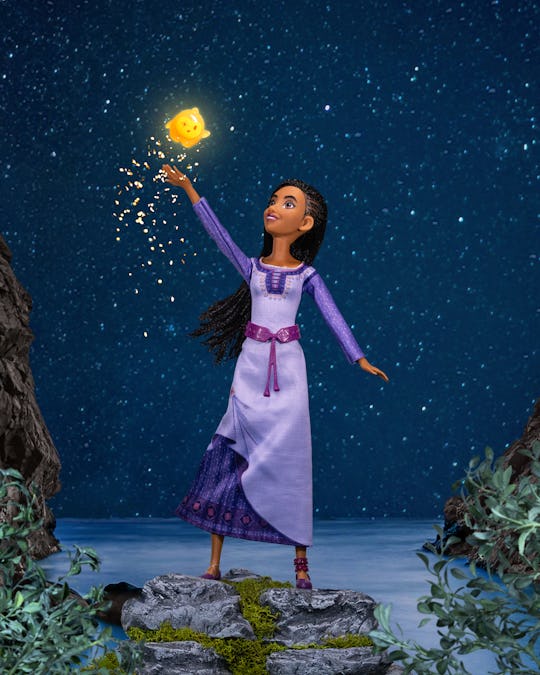 Your First Look At The New Wish Toys
I can not explain how much I personally want to snuggle that stuffed Star.
I have three daughters, which means that at any given moment, there is a Disney toy singing in my house. But it's time for Elsa and Moana and Mirabel to make room, because there are some really lovely new Wish toys coming in honor of Disney's newest movie, releasing November 22.
Wish is set in the magical kingdom of Rosas and stars Asha, a young apprentice to the king who makes a wish so powerful that it's answered by an actual Star. Together, Asha and Star have to show King Magnifico exactly what happens when humans connect with the powerful magic of stars. I know — it sounds so sweet. And the lineup of Wish toys to come really takes all of that magical energy to the next level. Romper can exclusively reveal four new toys launching soon in connection with the Disney movie Wish, and your little ones are going to want all of them. (Honestly, I could do with my own Star.)
Star is such a fun character in Wish, and this super soft, super squeezable version of the character is just the best. Retailing for $39.99, the Star Cuddleez plush has soft, embroidered features, and has a spongey soft fill to make Star the ultimate cuddle companion. Kind of want to use it for my own bedtime wishes, honestly, and Star does so much to help Asha in the movie that it's hard not to fall in love with them. This little toy will be available exclusively at ShopDisney, starting Oct. 2.
There are few things I love more than watching my girls play out scenes featuring courageous girls with their toys, and this new Asha doll will be a must in their collection. Not only does Asha have her signature braided hair and removable outfit and shoes, but she also sings her song "This Wish" from the movie, and kids can put her Star figurine right into her hand so she can sing straight to her new friend. It's one of those toys that's perfect for recreating a big movie scene, and if you already have a princess castle or two in your house (it's me, hi, I'm the problem, it's me), she'll fit right in as your standard-sized fashion doll. You can pick up Asha at several stores, including Target, for just $24.99.
King Magnifico is complicated (and seems villainous from the trailer), but still a great character in Wish, and you can find him in everyone's favorite form: LEGO. At $99.99, the LEGO King Magnifico Castle set features 613 pieces so you can build out all of the details of his palace, including the kitchen and plenty of detailed accessories. The set is perfect for kids ages 7 and up, and also features several other character minifigures from the movie. This is a great piece for big LEGO collectors, as well as those who just want to act out their favorite movie scenes in miniature brick form.
And finally, there is Valentino, the ultimate companion. In the latest trailer for Wish, you get a real fun look at some of Valentino's best moments (including a great chicken coop scene that really helps explain his look here), and it's easy to see why he's going to become a fan favorite very quickly. This Valentino toy is a moving and talking little guy with over 20 sounds and movements. And, like the movie, Valentino makes his "normal" animal noises until you bring Star right up to his cheek where the magic suddenly allows him to speak. (I know, I need him, too.) Valentino also comes with some fun accessories like a carrot and yarn, and the more you play and interact with him, the more new words and movements he learns. The JAKKS Pacific Walking & Talking Valentino is $54.99 and available now.
More fun Wish toys are sure to come once the movie is released, but go ahead and prep yourself for these incredible four items featured here. This new Disney movie is full of magic, courage, and friendship, and the toys are a great reflection of those moments. Perfect for recreating favorite scenes or just helping kids build their own little imaginative worlds, the Wish toy line already feels just as magical as the movie and the kingdom of Rosas itself.