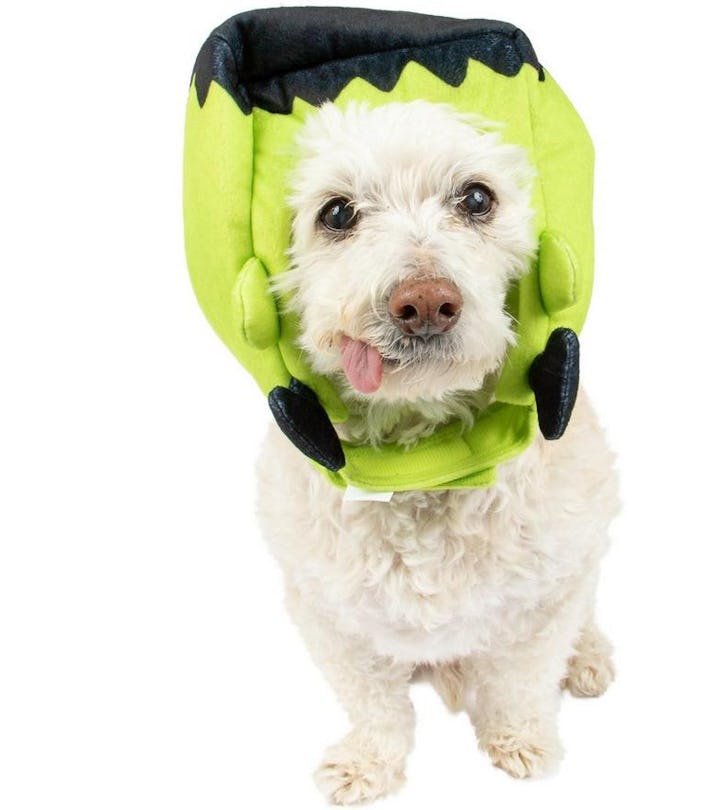 14 Dog Halloween Costumes That Are Perfect For Howl-o-ween
They're just too cute to resist.
There's no denying that Halloween costumes for kids can be really cute. When you see a baby dressed up as an avocado, or your cutie patootie toddler dressed like Cookie Monster, well, there's almost nothing cuter. And then, there are dog Halloween costumes, which are a whole other level of excitement and joy. So, don't leave your fur baby out this Halloween, because there are so many dog Halloween costumes that are sweet, silly, and only a little spooky.
There are so many styles of costumes you can choose from when you're looking at dog costumes. Maybe you want to stick with food — think hot dogs, hamburgers, or even a slab of bacon — or perhaps you prefer something prettier, like a freshly-plucked flower or an angel, complete with a halo and wings. But then you think, "It's Halloween, so maybe the dog should be dressed as something scary." Enter costumes like Michael Myers or Pennywise that will have horror fans shrieking with fear — and laughter. Because, no matter what you choose, dressing up your dog for Halloween is adorable and hilarious.
Get ready to take your fur-ocious beast out for a night of trick-or-treating, a paw-ty, or just to enjoy Howl-o-ween when they wear any of these dog Halloween costumes that are paws-itively precious.
We may receive a portion of sales if you purchase a product through a link in this article.
Whether your dog is dressed up as a daisy, a hot dog, or a serial killer from some campy '80s horror movie, it'll be all treats and, maybe if they sit, some tricks, too.
This article was originally published on