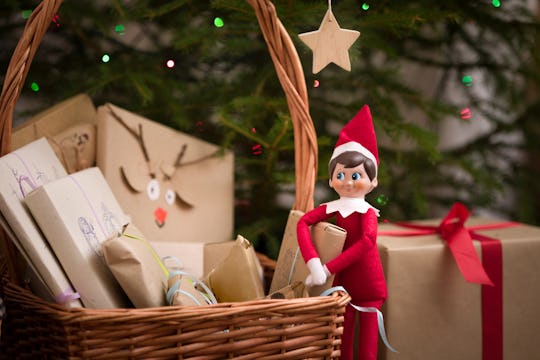 goodmoments/Shutterstock
35 Elf On The Shelf Ideas You Can Actually Pull Off In Under 5 Minutes
Christmas is right around the corner, which for parents means one thing: the Elf on the Shelf is officially back in town. I'm consistently blown away by the photos my mom friends share on social media. Seriously, it seems like each year, everyone gets more creative with their North Pole visitor. If you're looking for fresh ideas for your family's Elf, here are 30 easy Elf On The Shelf ideas you can pull off in five minutes or less (so you can be one of those creative moms, too).
If this is your first year participating in the glorious tradition that is Elf on the Shelf, here's a little background. "The magical Scout Elves help Santa manage his naughty and nice lists by taking note of a family's Christmas adventures, and reporting back to Santa at the North Pole nightly," according to the official Elf on the Shelf website. "Each morning, the Scout Elf returns to its family and perches in a new spot, waiting for someone to spot them." The full tale of the Elf on the Shelf is explained in the book that comes with it, The Elf on the Shelf: A Christmas Tradition. Each morning, your child awakens to find the family's personal elf in a new place, often doing something funny or mischievous.
Of course, it's up to the parents to come up with a brand new, brilliant spot for the elf each morning. That's where this list of easy Elf on the Shelf ideas comes in.
This article was originally published on