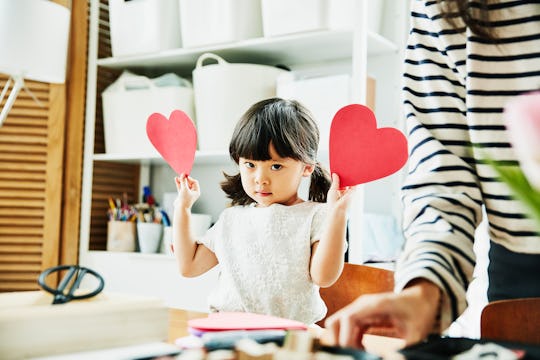 Thomas Barwick/DigitalVision/Getty Images
18 Easy Valentine's Day Kids Crafts You Can Make With Stuff At Home
We swear they're actually easy.
Breaking: As much as they may beg to differ, what your kid really wants this Valentine's day isn't presents, it's your presence. So get a jump on making them feel the love by sitting down with some art supplies and getting crafty. These 18 Valentine's craft activities are easy enough for kids provided you're there to give them a little glue stick supervision.
Some of these paper plate-based ideas might look familiar. Perhaps you made your own "Bee Mine" honey bee Valentine back in preschool. Others are new twists on the love-themed holiday. And yes, full disclosure, you're likely going to need to hit up a Michaels or order some supplies online, unless you're like my mom who kept a well stocked craft drawer in our home for the entirety of my childhood (#queen). That said, these require relatively few supplies so you shouldn't have to spend a fortune to put them together.
And yes, your kids will likely make a mess. Paper will be cut, glitter may or may not be spilled, shirts will be stained, but isn't that part of the fun? Sitting together, painting and gluing hearts, talking about what love means, and spending time together? Sounds like a recipe for all the feels to me.
This article was originally published on