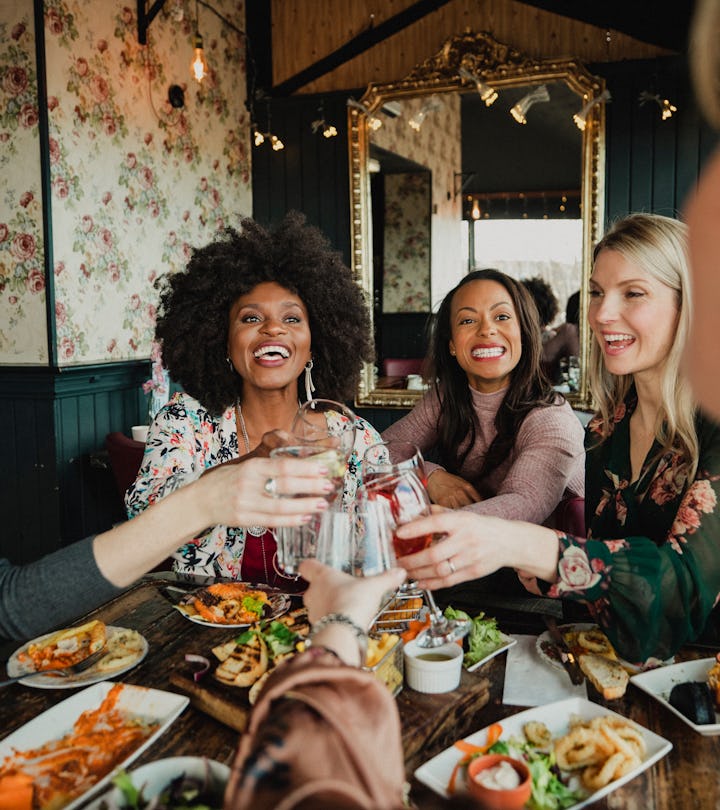 SolStock/Moment/Getty Images
Would You Have An Egg Shower? It's Time We Celebrate Friends Who Freeze Their Eggs
We may receive a portion of sales if you purchase a product through a link in this article.
Engagement parties, bridal showers, bachelorette parties, baby showers, second baby sprinkles — if you haven't noticed, there are a lot of special celebrations for people following the traditional get-married-and-have-babies order of operations. But for people who haven't met someone they want to start a family with yet, or who might want to have children one day, just not today, usually there are no champagne toasts or special brunches to celebrate freezing their eggs. Enter: the egg shower.
What is an egg shower?
In short, it's a party to celebrate someone (maybe yourself) who is in the process of freezing their eggs. It's just like a traditional baby shower thrown for someone who's pregnant and nearing their due date. In reality, an egg shower is a way to acknowledge the significance of deciding to freeze your eggs, and to show support for someone who has probably faced a lot of weird questions, and maybe even some backlash, about their choice. And about that choice... It's kind of a big deal.
The process of getting your eggs frozen is also not an easy one. The person undergoing it has to take injectable medicines to stimulate their egg production, undergo multiple blood tests and ultrasounds, and go through egg retrieval, which requires general anesthesia. When they decide they're ready for a baby, they'll undergo in vitro fertilization (IVF). So, yeah, it only seems right to celebrate someone who is taking charge of their destiny and giving themselves injections on a very strict schedule, all at the same time.
One note: An egg shower is not to be confused with an egg freezing party or egg social, which are educational events hosted by reproductive medicine clinics so anyone interested in freezing their eggs can learn more (and sip a cocktail while they're at it).
How to throw an egg shower
Just like you'd throw a baby shower, of course — hosting an egg shower for yourself or your friend is all about throwing a party that makes the guest of honor feel special. Maybe it's renting a venue for a big catered event with games, favors, and cake. Or, the perfect egg shower could look like reserving a big table at your bestie's favorite restaurant for a few close friends to get together (with gifts!). To make it feel like a big to-do, send out some adorable invites and bring along a few key decorations.
Egg shower invitations
Because egg showers haven't fully caught on, you might feel the invitation choices are a little limited. Search invitation websites where you can edit a template online and customize the text — think Evite and Minted. This way, you can find invitations that match your theme perfectly, even if they're from a baby or bridal shower, and just change the wording. That said, there are some seriously cute options out there that won't require much editing at all.
Shop these egg shower party invitations
Egg shower decorations
An egg shower has a pretty adorable theme baked right in to the name, and if your friend is up for it, adding a few (tasteful) egg decorations would be so cute. Or, if they've spent enough time thinking about eggs, focus your decorations on something else they love, or a different symbol of new life, like flowers.
Shop egg shower party decorations
However you choose to throw an egg shower, and whether you're celebrating yourself or someone you love, it's so important to acknowledge what a huge milestone it is to freeze your eggs. And anyone going through the egg freezing process undoubtedly deserves some presents and a slice of cake.