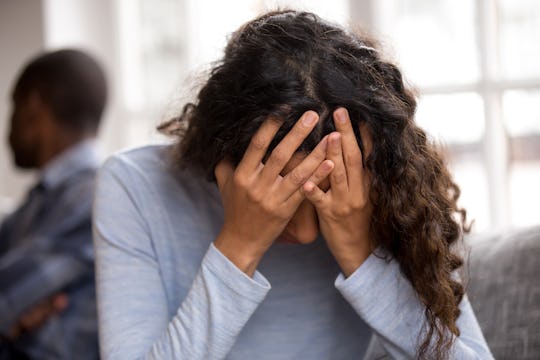 Shutterstock
11 Common Things People Who Are Emotionally Unavailable Often Do
So you can protect your heart if the other person isn't ready to open up.
"I'm a magnet for unavailable men. And I'm sick of it," says Jennifer Lopez in The Wedding Planner, her voice coated in loneliness and frustration. It's a fictional scene, but the dialogue is sharply poignant, highlighting the pain of falling for someone who is emotionally closed off. Part of this particular kind of heartbreak comes from the fact that an emotionally unavailable partner can be hard to spot — it's not always obvious when you're initially getting to know them. This is why knowing the signs can help prevent you from getting in too deep with someone who won't be able to love you the way you deserve.
The vulnerability that comes with relationships is difficult for many people, and it's not uncommon to feel nervous about the level of intimacy that accompanies romantic relationships. Putting your heart out there can be scary. But there's no one reason why people become emotionally unavailable, because all of our past experiences shape how we approach relationships in the present. "Any past traumatic experience with love can cause emotional blocks," Julia Bekker, matchmaker and dating coach, tells Romper — whether it be a particularly painful breakup or watching your parents get divorced.
Over time, this can develop into a sustained pattern of emotional avoidance. "People who have avoidant attachment styles get uncomfortable when they are close and pull away because sustained intimacy is really difficult for them," licensed marriage and family therapist Nicole Richardson tells Romper. In extreme cases, they may be showing signs of avoidant personality disorder, a condition characterized by an extreme fear of judgment and rejection. While this is rare, it significantly impacts a person's close relationships and often requires the help of a professional to feel confident engaging emotionally with others.
If you're the person on the receiving end of these behaviors, it's understandable if you feel frustrated and helpless. The good thing is that being aware of the habits of an emotionally closed off person can help you avoid getting too involved in a one-sided relationship, or from overcommitting to someone when you yourself are emotionally ready. Read on for 11 common signs someone isn't quite ready or willing to be emotionally vulnerable. While not every emotionally closed off person exhibits these traits, they can provide some general clues about whether your partner is equally ready to progress your relationship.
While every situation is different, these red flags can indicate that the person you're with might isn't ready for a deeper connection. If you are seeking more emotional intimacy, it might be time to re-evaluate your relationship. "It's worth attempting to talk about it," Richardson suggests. "If your partner makes an effort to change or make improvements, keep trying. If they don't, wish them well." Though painful, this decision will ultimately open you up to a love that better meets your emotional needs.
Sources interviewed:
Julia Bekker, matchmaker and dating coach
Nicole Richardson, LMFT-S, LPC-S, marriage and family therapist
This article was originally published on