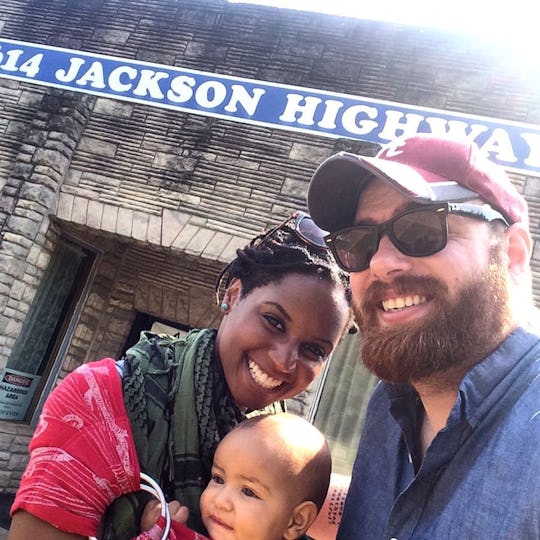 Courtesy of Sabrina Joy Stevens
9 Ways Discovering My Love Language Made Me A Better Parent
My first few months postpartum were really hard on me as a mom, but they were honestly much harder on me as a wife. After griping to a friend about how things were going, she recommended that I read The Five Love Languages. Now, while I don't necessarily agree with everything the author has to say, I found the metaphor of a love language incredibly useful, and was pleasantly surprised at what a difference it made for me. Not only did it change a lot in my relationship with my partner, discovering my love language made me a better parent.
Once I learned about the different love languages — receiving gifts, quality time, words of affirmation, acts of service, and physical touch — and discovered my own, I realized why postpartum life was so tough on me. My primary language is words of affirmation. My partner's is acts of service. My child was completely nonverbal, because he's a baby, and my stepdaughter was far away, living with her mother. So I went from spending my days having a variety of interpersonal interactions, including many where people would affirm me, to spending my whole day with just my husband and son, where that was happening far less frequently. Given how physically exhausted I was, and how much I was doing for our new baby, I was starting to feel depleted and resentful. Those feelings took a huge toll on our relationship.
You know how, when you're around people speaking a different language that you don't understand, it can turn into background noise? That's what their expressions of love were like, so I didn't really pay attention to them. Once I recognized what those actions meant for them, I was able to understand them better, and give them more credit for showing me love the best way they knew how. It's still not the same as being loved in my native language, of course, and now that I know to ask for that I'm better able to get what I need, particularly from my partner. But even when our kids don't or can't speak my primary love language, being able to interpret more of their actions as the expressions of love they're intended to be feels infinitely better than erroneously feeling ignored or taken for granted.